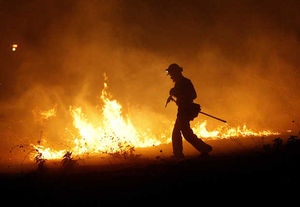 Firefighters are bracing for a hot year as California's drought has forests primed for early wildfires.
Cal Fire spokesman Daniel Berlant said firefighters already have responded to over 400 wildfires statewide this year. By comparison, there were no wildfires in the first 3 1/2 weeks of last year, he said.
"The conditions we are experiencing right now are similar to what we would be seeing in August -- that's how dry it is,"
Berlant said. "Even though the calendar says it's February and it's winter, conditions are primed for wildfires."
In response to the drought, Cal Fire staffing increased statewide last week. In the Central Valley and its flanking Sierra Nevada, more than 100 permanent firefighters are being shifted from common winter activities, like maintenance and training, back to staffing stations and engines, Berlant said.
In Northern California, Cal Fire hired an additional 125 seasonal firefighters. In Southern California, the employment of seasonal forces was extended.
Last year, Cal Fire declared the official start of fire season on May 1. This year, it's likely to be much earlier, Berlant said.
"In many areas these last couple days, there's been some cooler temperatures and rainfall, but the long-term outlook continues to be very dry," Berlant said.
Still, recent storms likely helped diminish a large wildfire in Sequoia National Forest that was discovered Jan. 13.
Eight inches of snow reportedly fell in the community of Ponderosa close to the Soda fire's perimeter, Denise Alonzo, spokeswoman for Sequoia National Forest, said Friday.
"I think it's pretty reassuring that it shouldn't be burning too much more," Alonzo said.
On Friday, the Soda fire was estimated to be about 1,200 acres in the Golden Trout Wilderness, 20 miles east of Springville, with 20 personnel assigned to fight it. Aircraft combating the blaze were grounded Thursday and Friday due to cloudy skies, but pilots will likely be back in the air Monday to assess the fire, Alonzo said.
To prevent more California fires, officials are asking residents to clear 100 feet of defensible space around structures, a reminder that's coming several months earlier than normal.
Lawn mowers and weed eaters shouldn't be operated in the heat of the day when it's hot or windy, however, because of the increased chance of dangerous, runaway sparks. It's also important to clear needles, leaves and branches from roofs, eaves and gutters, along with keeping wood piles and flammable materials at least 30 feet from the home.
The reporter can be reached at (559) 441-6386,
cgeorge@fresnobee.com
or @CarmenGeorge on Twitter.