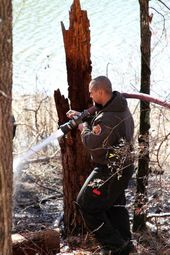 The U.S. Forest Service is battling a 50-acre wildfire northwest of Lake Ouachita State Park near Hot Springs.
Forest Service officials say the blaze began about noon Friday and has closed all trails within the Little Blakely Trail System.
The cause of the fire is under investigation.
The fire is located in a remote location and away from private lands or structures
. Officials say it is expected to burn over the next several days.
Officials are managing the wildfire using a strategy that will allow it to burn to existing barriers such as roads or creeks, resulting in less damage to natural resources.
They say managing the fire that way will also reduce the chance that current wind conditions move heavy smoke through the Hot Springs area.
Source: Associated Press