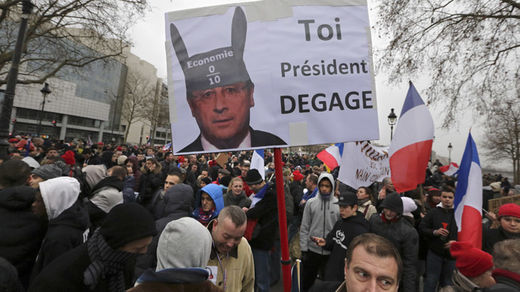 Clashes have broken out during anti-government protests in France. Thousands of people took to the streets of Paris in a "Day of Anger" against a host of policies introduced by President Francois Hollande.
An anti-government protest in Paris ended in violence on Sunday when police used tear gas to disperse several hundreds youths throwing bottles, fireworks, iron bars and dustbins.
Police said at least 150 people were arrested and 12 police officers were injured in the clashes.
According to official figures at least 17,000 people carrying banners saying "The French are angry" marched through central Paris in a mass rally against the embattled president Francois Hollande.
Organizers put the turnout at around 120,000.
Mainly right-wing
Around 50 small and mainly right-wing organizations were behind Sunday's march, which they said was a response to a slew of new policies introduced under Hollande, including a law introduced last year allowing gay marriage.
They also cited France's struggling economy and high unemployment, its taxes, their housing needs and lack of personal freedoms, with some calling for France's exit from the European Union.
"Today they are taking our money from all sides. There are new taxes all the time. We have had enough!" said protester Johan Bonnain.
Hollande, who polls say is France's most unpopular president of modern times, recently announced plans for 50 billion euros ($68 billion) in spending cuts between 2015 and 2017 to revive the nation's embattled economy.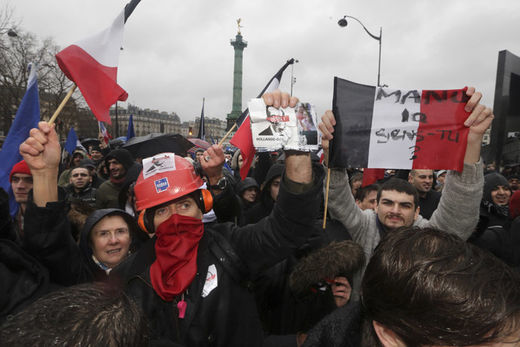 The Hollande affair
Extensive media coverage the president's split from his long-term partner Valerie Trierweiler was not listed by protestors as the primary source of their anger.
Hollande formally announced the end of his relationship in an interview published on Sunday, two weeks after a magazine published details of his amorous liaisons with actress Julie Gayet, reiterating earlier pleas for privacy.
He told
Time
magazine that "private life is always, at certain times, a challenge. And it has to be respected."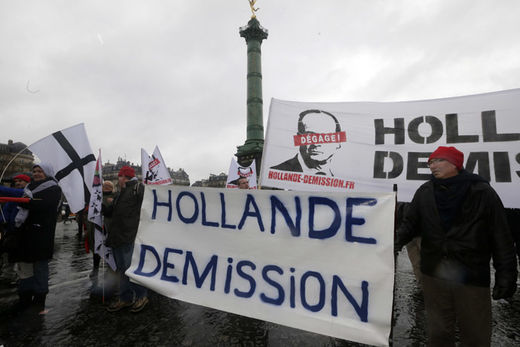 Despite his approval rating standing at about 30 percent, the personal revelations appear not to have negatively affected Hollande's public image.
Previous surveys suggested that the vast majority of voters considered the issue a private matter - although one poll published on Friday found that two-thirds of participants believed the news had damaged France's image abroad.
The former first lady, who has maintained silence for the most part since the affair was made public, arrived in India on Sunday on a long-scheduled humanitarian mission.
Hollande leaves France on an official visit to Turkey on Monday.