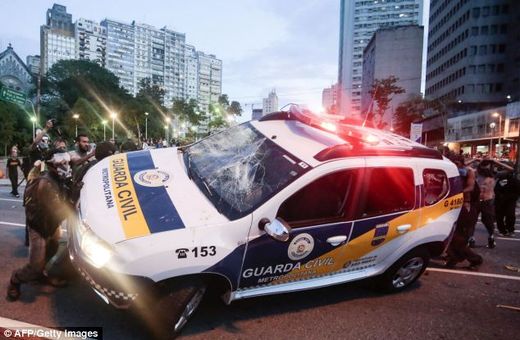 More than 2,000 demonstrators calling for government to prioritise health
First in a series of protests planned against football tournament
World Cup set to start this June in stadiums across the country
More than 2,000 protesters clashed with police in Sao Paulo as tension mounts over the World Cup later this year.
It is the first in a series of demonstrations planned against the tournament, which locals fear will drain public funds needed for the ailing health and education services.
Waving flags, carrying banners and chanting 'there will be no Cup', the crowds swarmed the streets of Brazil's second city.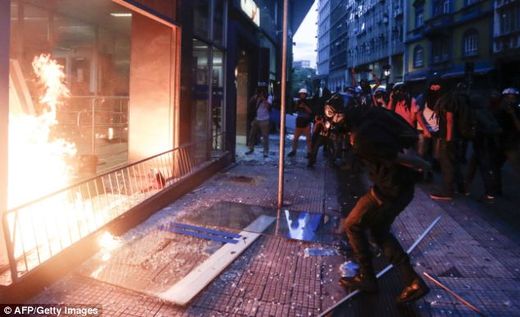 Radicals attacked police vans, torched cars on the street, and smashed up ATMs.
On its Facebook page, the Anonymous Rio protest group billed 'Operation Stop the World Cup' as this year's first act against the football tournament.
The demonstrators gathered in front of the Sao Paulo Art Museum for about one hour before heading out to another part of the city chanting slogans against the tournament.
During the demonstration several protesters chanted 'If we have no rights, there will be no Cup.'
'By rights we mean the people's right to decent public services,' said university student Leonardo Pelegrini dos Santos.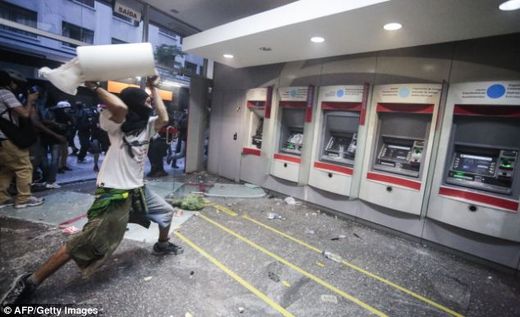 '
We are against the millions and millions of dollars being spent for the Cup. It is money should be invested in better health and education services and better transportation and housing.'
Fellow student Juliana Turno said: 'This is a small sample of the protests that will happen when the World Cup begins and will be bigger than those of last year.'
Last year, millions of people took to the streets across Brazil complaining of higher bus fares, poor public services and corruption while the country spends billions on the World Cup, which is scheduled to start in June.
Those demonstrations coincided with the Confederations Cup soccer tournament, a warm-up tournament for the World Cup
In Rio de Janeiro, about 50 protesters gathered in front of the Copacabana Palace hotel, holding aloft signs blasting the World Cup and occasionally chanting.
After about an hour, the crowd moved onto a main street that runs along Copacabana beach, halting traffic as police watched from the side.
Small demonstrations were also held in several other cities.