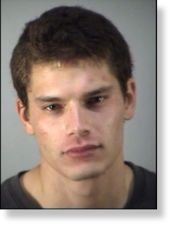 A Lake County deputy had little choice but to shoot a 24-year-old man with a "zombie" look who was wielding a long carving knife and cutting himself in the street, witnesses said Thursday.
Residents said Ian Michael Saum was shot Wednesday after he moved toward deputies with the knife. Saum was described as a troubled, quiet man without friends who was living at his grandmother's home in a quite neighborhood near Clermont. Saum was airlifted to Orlando Regional Medical Center, where his condition wasn't immediately available.
Lake County Sheriff's Office
spokesman Sgt. Jim Vachon said in an email that the officer was "forced" to use his firearm after Saum refused to obey orders to drop the knife. The deputy who shot Saum was placed on paid administrative leave while the Florida Department of Law Enforcement investigates, which is standard practice in such cases.
Saum shocked neighbors about 3:30 p.m. when he emerged from the home on Aira Court brandishing the knife with cuts visible on his bare arms, said witnesses. Saum's grandmother, they added, tried to pull the knife from the young man's hands until neighbor Josh McMinn called her away for her safety.
"She started coming, walking down the driveway and he was slicing himself behind her," said McMinn, 36, who witnessed the ordeal.
McMinn tried to calm Saum for about 15 minutes while McMinn's father and girlfriend called police. Saum continued to pace with a "blank" stare, McMinn said, while repeatedly cutting his arms. Once Saum heard police sirens he shuffled down the street dripping blood as he went.
Two deputies who arrived asked Saum to put down the knife. McMinn and York said deputies twice fired Tasers at Saum, but the barbs didn't attach to him. Neighbors said Saum continued to move toward the deputies with the knife until he was about six feet from them.
"He just kept walking toward them like a zombie with a knife," McMinn said. One deputy fired a shot, McMinn said, which sent Saum to the ground, but even as deputies approached Saum he continued to fight.
"I said, 'he's not dropping the knife so he must want to be shot,' " said Misty York, McMinn's 34-year-old girlfriend, who watched the incident unfold. "Suicide by cop."
McMinn and York said they believe the shooting was justified. Saum's family was trying to get him psychological help, which Saum didn't want, they said. Bob McMinn, McMinn's father, said he was doing yard work Wednesday when Saum approached him and said he believed someone was going to kill the young man and his family. Neighbors said they hope Saum is able to heal and get the help he needs.
"A lot of people need help, but he needs a lot more attention," Josh McMinn said. "Something in his life is lost."
Saum has been arrested at least three times in Lake on criminal charges including kicking a law-enforcement officer, disorderly conduct and resisting arrest.