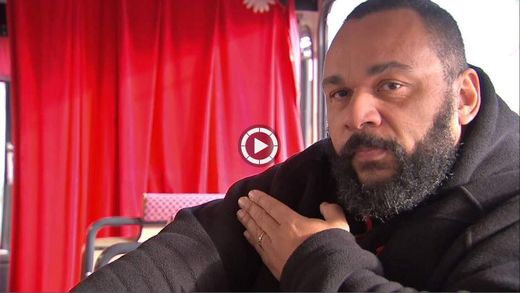 The French comedian who invented the controversial 'quenelle' gesture used by Nicolas Anelka has said he is "proud" of the footballer.
In his first TV interview since Anelka's actions sparked the furore, Dieudonne M'bala M'bala exclusively told Sky News' Paul Harrison that neither he nor the West Bromwich Albion striker were racist or anti-Semitic.
"Nicolas Anelka has all my support, of course," he said.
"We see him as a brother in our humanity. He's someone who is very courageous and for whom I have very much respect and admiration.
The quenelle has been described as an "inverted Nazi salute" and photographs have emerged of people performing it outside the Auschwitz-Birkenau concentration camp and at Holocaust memorials around the world.
Dieudonne said: "There's no hint of racism, racism is a bad thing.
"The quenelle was at the start an insult, a little like this, I'm not sure how you do it in England (performs 'up yours' gesture).
"In France, it's a gesture against the system."
He added that the use of the quenelle was linked to the history of slavery that affected his and Anelka's ancestors.
"Nicolas Anelka and I, we are French of African origin and this salute is a gesture of emancipation," he said.
"Anelka is a descendant of slaves and if he wants to remark on this history then he has the right to - and we are all very proud of him doing so.
"We are all behind him in solidarity and we are above all proud of him because of his noble position. To us, he is a prince."
Anelka has been charged by the Football Association with making an "abusive and/or indecent and/or insulting and/or improper" gesture and faces a minimum five-game ban.
On Thursday, he denied the charge and requested a personal hearing to defend his case.
But he has repeatedly insisted he used it while celebrating a goal against West Ham United to show his support for Dieudonne, who has consistently claimed it is intended to be an anti-Zionist and anti-establishment gesture.
Anelka's case initially appeared to have been backed by Roger Cukierman, head of Jewish organisation CRIF (Representative Council of French Jewish Institutions) and vice-president of the World Jewish Congress.
He told French newspaper
Le Figaro
the quenelle is only anti-Semitic when it is performed at a Jewish site.
"In a place that has no significance for Jews, it is merely an anti-establishment gesture which I feel does not warrant any harsh sanction," he said.
But in a statement on the CRIF website, Mr Cukierman clarified his earlier views and said he was disappointed by Anelka's actions.
"The quenelle is a Nazi salute reversed, there's no doubt in my mind because this is the will of the one who created and popularised it for purely ideological ends," he said.
"My statements in
Le Figaro
are no denial or renunciation on this subject, despite the interpretations that were made.
"However, I wished, perhaps too quickly, to demonstrate that it was important to show discernment, restraint, to avoid being drawn into a spiral that was difficult to control.
"It is clear the gesture of the quenelle has dangerously spread among our citizens and especially youth.
"Should we be hard on them? Definitely, as it glorifies crime against humanity, but we must also teach the youth who are manipulated by Dieudonne and his followers.
"This is why I was disappointed with the attitude of Anelka, whose behaviour is the opposite of what a top athlete must show the youth of our country."