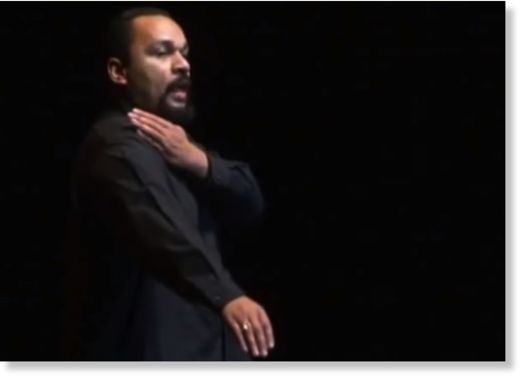 The anti-semitic French comedian Dieudonné M'bala M'bala was arrested today on suspicion of firing a rubber bullet at two bailiffs who tried to serve a writ on him for non-payment of fines or taxes.
Dieudonné, the inventor of the allegedly anti-semitic quenelle arm gesture which has brought an FA threat of suspension to the Premier League footballer Nicolas Anelka, was being questioned by gendarmes in Eure-et-Loir, west of Paris.
The comedian, 47, whose touring stage show was banned earlier this month for fomenting hatred against Jews, allegedly refused to accept a writ from a bailiff who appeared at his home in Saint-Lubin-de-la-Hay near Dreux on Monday night. One of the bailiff says that as he was leaving
an unknown person fired a "flash ball"
- a rubber bullet used by police for riot control - at his car.

Comment: The Independent already in the very first sentence calls Dieudonné anti-semitic, which is what the Zionists wishes the public to believe. Being against the policies of the Zionists is not to be anti-semitic.


The comedian was questioned by gendarmes at his own request on Tuesday and denied that he was present at his house at the time of the alleged attack. The bailiff has since insisted that he saw both Dieudonné and his wife, Noemie Montagne.
Dieudonné was in "garde à vous"- or under arrest for questioning - this afternoon. It is believed that the bailiff was also present and gendarmes were "confronting" their differing versions of events, a standard investigating procedure in France.
The exact nature of the writ which the two bailiffs tried to serve has not been revealed but Dieudonné is under investigation for alleged money-laundering and fraudulent organisation of his own bankruptcy. He has also failed to pay several thousand euros in fines for anti-semitic remarks.
In a statement, the local public prosecutor, Patrice Ollivier-Maurel, said that the bailiffs had been sent to Dieudonné's home by the "regional director of public finances in Paris" to serve "several notices to pay".
"One of the bailiffs said he was met by Madame Montagne who asked him to leave, and also identified Monsieur Dieudonné M'bala M'Bala who refused to reply to his demands. As he returned to his vehicle, the usher saw a fire-arm shooting at him above the gate [of the house]."
The prosecutor said that the
bailiff was unable to identify who fired the gun
. Dieudonné's wife, Ms Montagne, was questioned by police yesterday and then allowed to go home.
Gendarmes searched the house yesterday and found a Flash Ball gun, capable of firing non-lethal baton rounds. An investigation was started into "
person unknown
" for "threatening the safety of a public official in the course of his duty". Dieudonné has filed a counter complaint for "invasion" of his home.
The comedian, who asserts that there is a Jewish conspiracy to control world events, was reported earlier this month to owe €887,135 to the French state in unpaid taxes. It was later reported that he paid off €600,000 of this sum, despite having been declared bankrupt.
Several investigations into his finances are under way, according to the French press. They include allegations that he faked his bankruptcy to avoid paying several fines imposed for making racist comments. He is also alleged to have "laundered" money by making undeclared transfers of €400,000 to Cameroon, including €230,000 last year alone.
Earlier this month, the French government asked local officials around France to ban Dieudonne's stage show, Le Mur (the wall), which contains sketches mocking the Holocaust and accusing Jews of running the world. After the ban was overturned by a local court in Nantes, it was declared legal by the government watchdog, the Conseil d'Etat.