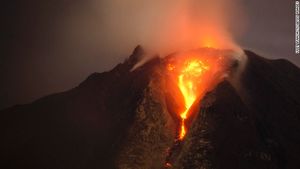 Multiple eruptions send lava and searing gas tumbling out of the volcano in North Sumatra, Indonesia
Dramatic footage captured pyroclastic flow, a fast-moving current of hot gas and rock, glowing red and rare phenomenon like volcanic lighting as Mount Sinabung inIndonesia's North Sumatra province erupted again on Sunday.
The volcano was seen spitting clouds of gas and lava as high as 13,000 feet in several eruptions.
The 8,530-foot Mount Sinabung has sporadically erupted since September. More than 26,000 villagers have been evacuated since authorities raised the alert status for the volcano to the highest level in November 2013.
An eruption in 2010 killed two people and caught scientists off guard because the volcano had been quiet for four centuries.
Mount Sinabung is among about
130 active volcanoes
in Indonesia, which is prone to seismic upheaval due to its location on the Pacific Ring of Fire, an arc of volcanoes and fault lines encircling the Pacific Basin.