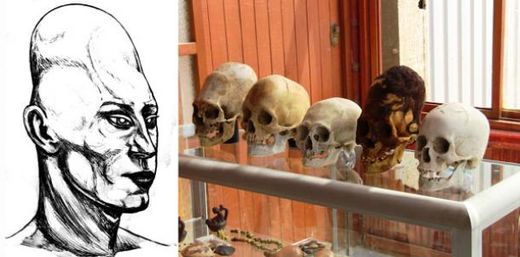 Four hours drive south of Lima Peru one finds the Paracas Peninsula, part of which is an ecological reserve, where one can see wildlife such as sea lions, and a myriad of various sea bird species. The area is amazingly rich in seafood, and abundant fresh water exists just below the surface of the desert sands, suitable for irrigation free agriculture.
Therefore, it would seem to be a very liveable place for humans. Stone tools, of various forms and styles of shaping have been found in the area, and cursory analysis has established dates of as old as 8000 years. The greatest of Peruvian archaeologists, Julio Tello, made studies in this area in 1928 and performed excavations on the north side of the peninsula, in the central area of the large semi-circular bay there. He discovered and excavated a massive and elaborate graveyard, where each tomb contained an entire family, each one ornately wrapped in multiple layers of highly stylized, woven and coloured cotton cloth. He also found the sand filled remains of subterranean houses, which turned out to be numerous; so numerous in fact, that the village stretched out for between 1 and 2 km just above the seashore.
But, the most amazing finds were the skulls, some enormously elongated. The scientific name for this is dolichocephally. Most skulls exhibiting this condition, found in many parts of the world, were clearly the result of the practice of head-binding, the process being known as cranial deformation. And so how was this achieved?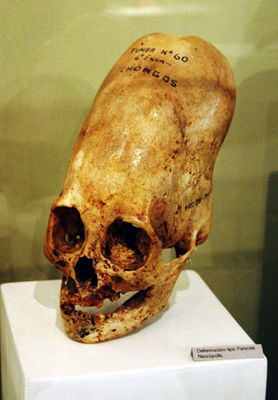 A very young child's skull is pliant at birth, and remains in this way for months. It is therefore possible, by lashing a rope around the head, with a board placed at the back of the skull, and perhaps the front as well, to alter the shape of the head over time. Many authors state that the time period to perform this shaping was about 6 months to 3 years, but since the practice is no longer performed to my knowledge, no one really knows. Examples of this technique, supposedly last performed on infants in the Congo of Africa and the Island of Vanuatu in the south Pacific Ocean area known as Melanesia, well into the 20th century, have also been found in Egypt, during the Amarna period, Sudan, Iraq, Syria, Russia, the island of Malta, as well as many places in Peru and Bolivia, and amongst the Olmecs of Mexico.
Read the rest here.