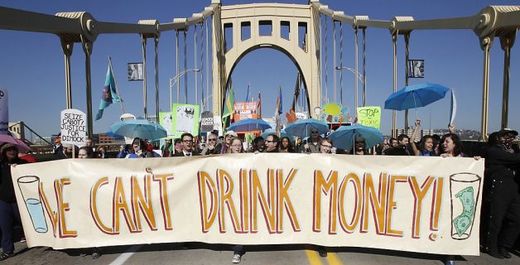 Despite roadblocks by industry and state officials, well water contamination found in four states.
The Associated
Press has
confirmed
what residents have long known and the oil and gas industries have
sought to hide
: the controversial process of hydraulic fracturing, as well as conventional oil and gas drilling, is polluting and contaminating well drinking water supplies.
In an
investigation
published Sunday,
AP
reporter Kevin Begos - drawing upon hundreds of complaints made by residents, as well as admissions from state officials and even drilling companies -
verifies well water contamination
in Pennsylvania, Ohio, West Virginia, and Texas.
The
AP
summarizes:
- Pennsylvania has confirmed at least 106 water-well contamination cases since 2005, out of more than 5,000 new wells. There were five confirmed cases of water-well contamination in the first nine months of 2012, 18 in all of 2011 and 29 in 2010. The Environmental Department said more complete data may be available in several months.

- Ohio had 37 complaints in 2010 and no confirmed contamination of water supplies; 54 complaints in 2011 and two confirmed cases of contamination; 59 complaints in 2012 and two confirmed contaminations; and 40 complaints for the first 11 months of 2013, with two confirmed contaminations and 14 still under investigation, Department of Natural Resources spokesman Mark Bruce said in an email. None of the six confirmed cases of contamination was related to fracking, Bruce said.

- West Virginia has had about 122 complaints that drilling contaminated water wells over the past four years, and in four cases the evidence was strong enough that the driller agreed to take corrective action, officials said.

- A Texas spreadsheet contains more than 2,000 complaints, and 62 of those allege possible well-water contamination from oil and gas activity, said Ramona Nye, a spokeswoman for the Railroad Commission of Texas, which oversees drilling. Texas regulators haven't confirmed a single case of drilling-related water-well contamination in the past 10 years, she said.
Begos reports that his investigation was impeded by a lack of transparency at state levels. He writes:
The Associated Press requested data on drilling-related complaints in Pennsylvania, Ohio, West Virginia and Texas and found major differences in how the states report such problems. Texas provided the most detail, while the other states provided only general outlines. And while the confirmed problems represent only a tiny portion of the thousands of oil and gas wells drilled each year in the U.S., the lack of detail in some state reports could help fuel public confusion and mistrust.
In some cases, this amounted to state attempts to prevent the media from obtaining information.
Begos explains, "For example, starting in 2011, the Pennsylvania Department of Environmental Protection aggressively fought efforts by the AP and other news organizations to obtain information about complaints related to drilling. The department has argued in court filings that it does not count how many contamination 'determination letters' it issues or track where they are kept in its files."