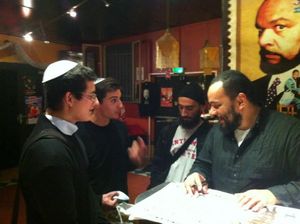 France's government has vowed to pursue its campaign against a comic accused of anti-Semitism on to the internet after winning legal backing for its action to ban his live shows.
In the latest move in an affair that has escalated into a major national controversy, Manuel Valls, the interior minister, said "the law must be able to act" against the online publication of what he called the "racist and anti-Semitic speech" of Dieudonné M'bala M'bala.
"We cannot let this speech spread. We must discuss this with [internet] operators," he said, although he acknowledged this was "not simple, legally".
The government's aggressive pursuit of Dieudonné, as he is known, has been broadly supported by anti-racist campaigners and politicians of both mainstream left and right, especially mayors of towns and cities where the comedian has booked tour dates over the coming weeks.
But the unleashing of the full force of the state against a figure relatively low-profile until the past two weeks has prompted concern that the government has overreacted, fuelling support for the comic.
On Thursday night, about 6,000 mainly young people who had bought tickets for Dieudonné's opening tour date in the western city of Nantes loudly cheered their support for him after the show was cancelled at the last minute following a ruling by the Council of State, the highest administrative court.
Dozens were shown on live television making the
quenelle
salute, a straight-arm gesture invented by Dieudonné that his detractors say is a deliberate inverse Nazi salute.
The rightwing
Le Figaro
newspaper commented that the court decision was a "fragile victory" for Mr Valls.
"In the eyes of many, this odious man has become a martyr," it said in an editorial. "The pariah has acquired the status of the champion of free speech. It is extraordinary."
Dieudonné, whose father is an immigrant from Cameroon and whose mother is French, has a long record of convictions for anti-Semitism. His stage show contains jokes about Jews and a song called "Shoananas", a play on the Hebrew word for the Nazi holocaust and the French word for pineapple.
But he denies he is anti-Semitic and he has become for some a symbol of a broader dissent, especially among the young.
In recent months, there have been a series of cases of people publishing pictures on the internet of themselves doing the
quenelle
, including pupils in school, a teacher, serving soldiers and two visitors to a theme park dressed in costumes as the cartoon characters Asterix and Obelix.
Read the rest of this article
here
.