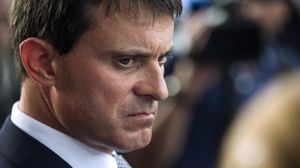 Translated by SOTT.net
Traveling in Brittany, the Interior Minister has welcomed the decision of the Council of State [Conseil d'État] to prohibit the performance of the comedian in Nantes. "We cannot tolerate hatred," he said.
So Dieudonné
did not ultimately play in Nantes
on Thursday evening, and the Minister of the Interior can only be happy with himself that his efforts to ban Dieudonné's shows have been successful. "We can not tolerate hatred of the other, racism, anti-Semitism, or Holocaust denial. This is not possible. That's not France," he said as he journeyed onwards from Rennes to Brest, a few minutes after the decision of the State Council.
The highest administrative court in the country has strengthened the government's intention to ban all of Dieudonné's shows. "This is a victory for the Republic," said Manuel Valls. "My fight against this nauseous character continues," added the minister, who also called for Dieudonné's fans who wanted to see the show in Nantes to return home. The minister also said: "The highest court in our country has spoken ​​clearly; it is a victory for the Republic."
The Council of State canceled Thursday night the
earlier decision of the Administrative Court of Nantes
, confirming for the first time ever the prohibition of a comedy show in France. The Interior Minister Manuel Valls had petitioned to the highest administrative court in France in the afternoon to challenge immediately the decision of the Administrative Court of Nantes.