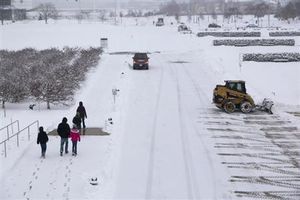 The severe cold weather sweeping across the mid-United States is threatening to curtail booming oil production as it disrupts traffic, strands wells and interrupts drilling and fracking operations.
Weather stations across the U.S. Midwest recorded some of the coldest temperatures in two decades this weekend, with many schools closed and flights delayed. Arctic cold air is also spreading across Texas on Monday with temperatures expected to drop to single digits in the morning.
Output in North Dakota, the second-largest oil producing state, usually ebbs in winter as producers scale back on drilling and well completion services such as fracking, which pumps a slurry of water, sand and chemicals into wells.
But analysts are bracing for a possibly worse than usual impact on output from the state, that could affect operations of companies such as Continental Resources, Marathon Oil and Hess Energy. The companies did not immediately reply to questions about operations on Monday.
"It is so cold that they cannot produce at full capacity, if at all. That should support prices," said Carsten Fritsch, senior oil analyst at Commerzbank in Frankfurt.
U.S. crude oil prices gave up early gains on Monday, slipping 2 cents to $93.94 a barrel, although the price differential for Bakken crude in North Dakota jumped last week.
Across the border, temperatures in northern Alberta, home to Canada's vast oil sands, dropped as low as minus 38C (minus 36.4C) last week, pushing Canadian heavy crude prices to five-month highs.
WINTER IN THE BADLANDS
Winters are especially brutal in North Dakota. Although temperatures average about 13 degrees Fahrenheit (minus 11 degree Celsius) between December and February, winter storms can send that number well below 0 degrees Fahrenheit (minus 18C).
Oil wells and feeder roads are usually shut as storms deposit snow.
The National Weather Service has issued warnings for life-threatening wind chills in western and central North Dakota on Monday, the heart of the oil boom, with temperatures as low as minus 60F (minus 51C) expected.
However, some forecasts show temperatures may swing back to normal levels later this week as westerly winds bring a warmer air mass to the plains in the U.S. Midwest.
"We're going to see a turnaround and temperatures will recover across the upper and lower plains by January standards," said Paul Pastelok, senior meteorologist with AccuWeather.
Freezing temperatures affected production in the Permian Basin in west Texas in December, with companies like Pioneer Natural Resources reporting cuts in their oil and gas output.
In December, a drop to minus 40F (minus 40C) in North Dakota slowed some production, officials said. A year ago, a winter storm dubbed "Gandolph" cut that month's oil production by 4.2 percent, according to the North Dakota Industrial Commission.
Bakken crude oil freezes into a substance resembling plastic when temperatures drop to between minus 40F to minus 60F (minus 40C to minus 51F),
according to studies from oil producers such as Chevron.
(Additional reporting by Nia Williams in Calgary and Christopher Johnson in London Editing by W Simon)