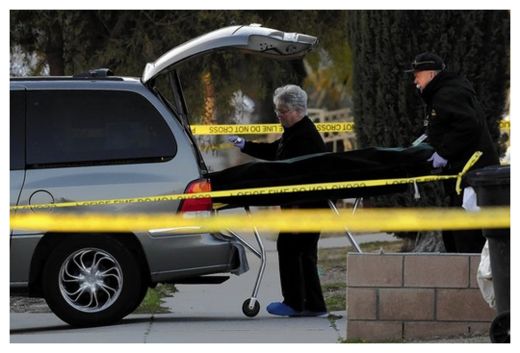 The shooting deaths of four family members at a Fontana home is being investigated as an apparent murder-suicide, police said Tuesday.
A relative discovered the bodies Monday night after family members failed to hear from the victims and thought something might be wrong, according to Martha Guzman-Hurtado, a Fontana police spokeswoman. Inside the home were the bodies of a man and a woman, both believed to be between 30 and 35, as well as the bodies of a 12-year-old girl and a 10-year-old boy. Coroner's officials have not yet released their names.
Police said the woman and children each died of multiple gunshot wounds, while the man had a single gunshot wound to the head, suggesting that he shot himself. One handgun was found inside the home, authorities said.
Guzman-Hurtado said there was no record of domestic dispute calls to the residence, although police did visit the property on a code enforcement call in 2010.
The shootings occurred in a neighborhood of modest, single-story homes and throughout Tuesday, residents clustered along the sidewalks of Palmetto Street to watch as officers conducted their investigation."It's horrific!" said Juan Moreno, 33, a forklift operator who moved to a home down the street nine years ago. "It's mind-boggling.... You don't touch the kids."
Several of the residents said they moved to the San Bernardino County community because they saw it as a safe, suburban place to raise their children or retire. Antonio Elliott, 48, raised his four children here, moving to the neighborhood 14 years ago from Compton. He said he wanted to "give my boys a chance.... Let them be free from all the gangs, the peer pressure."
Elliott acknowledged that the deaths were an "isolated incident," but the sight of so many news vans and police cars was disturbing. He said he couldn't help but feel "like I want to move farther out to the country."
The scene also reminded him of his own recent loss. Elliott said his son had been killed in a motorcycle accident over the summer. "Go to church - find a home and build a relationship with God," he said. "It's what's bringing me through it right now."
As coroner's officials carried the bodies out of the home, Amy Harris, a nurse dressed in her scrubs, said she recited the Lord's Prayer. "That's the first thing that came out of my mouth," Harris, 33, said. "God's our only hope."
Soon after, she was joined by her husband, David, and their twin sons, Davante and Daprie.
They said that the slain children were often seen cruising down Palmetto on their scooters and skateboards, and that they frequently played with other youngsters in the neighborhood.
Davante, 11, was in an after-school program with the girl. She was friendly, he said, and liked to tell jokes. She was also the one who always volunteered to help the staff members with chores. "She cared about people," he said.
They would also play house. She would take on the role of the mother or sister or even the baby. Davante said he had played the pet, pretending to wear a leash. The family laughed. It would probably be the only time they would laugh today, his mother said.
"It's crazy and sad," she said.