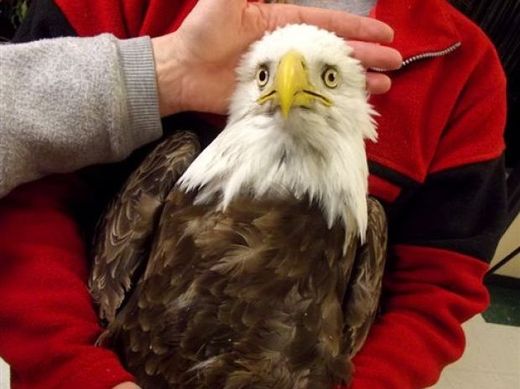 The recent deaths of as many as 13 bald eagles found in Northern Utah is alarming.
As predators, the poor health of bald eagles can be an indicator of bigger problems.
Like a canary in a coal mine
-- which was a warning for miners that their oxygen was being depleted -- the rash of deaths could be a sign of some environmental imbalance in the region.
Thousands of bald eagles migrate to Utah each winter, with many gathering at the Great Salt Lake where they feast on carp in diked freshwater reservoirs, such as Farmington Bay.
Bald eagles almost went extinct in the lower 48 states because of their susceptibility to pesticides they may have breathed in or ingested through fish. It wasn't until 1972 when DDT was banned in the United States that eagles began to rebound. In this case, the pesticide didn't kill adult eagles, but made males sterile and caused females to lay eggs that were too thin.
Utah wildlife officials aren't certain what has caused the recent rash of deaths, but indicate some of the eagles that were observed before they died suffered from head tremors. This may indicate some sort of poisoning.
"I don't ever recall having this many eagles die in such a short period of time,
" Utah Division of Wildlife Resources spokesman Mark Hadley said. "It is very unusual."
The dead or dying birds have all been found this month in Weber, Davis, Tooele and Utah counties. Officials don't believe the birds were killed on purpose.
Four of the dead birds were sent to Utah State University for testing, and the results are expected next week.
The cause of death could be related to a so-far undiagnosed virus. Disease often claims certain species of birds in large numbers at specific times. In these cases, there is no threat to humans.
However, it is important that a cause be found in this case.