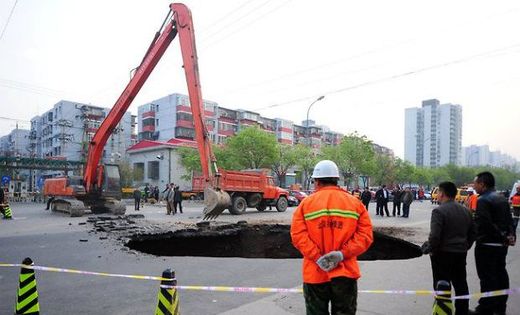 A truck laden with compressed natural gas cylinders fell into a sinkhole caused by leakage from a water pipeline opposite St Ann's High School in Secunderabad on Monday.
The incident occurred at 10.30 am, during peak traffic hours, causing a traffic jam that extended for up to two kilometres and lasted for three hours. On Sunday, the Water Board had diverted pipelines to make way for Metro Rail pillars.
The truck (AP 16 TB 7796) was carrying the cylinders from Shamirpet to Narayangudda HP Petrol Pump. While heading to East Marredpally (opposite Maharaja Bakery) the rear wheels of the truck sank into the moist soil.
"Owing to the water leakage, the soil had become wet and the truck's rear wheels got stuck in the mud. A crane was called in to pull out the truck. A huge hole had formed in the road. The traffic department had to order a truck full of sand to fill up the hole and allow traffic to proceed," said Gopalapuram traffic inspector A. V. Satyanarayana.
The massive traffic jam extended from the Gymkhana Grounds till East Marredpally. Every lane and bylane leading to the West Marredpally main road was gridlocked from 10.30 am to 1.30 pm. It took more than 45 minutes for the traffic police to get the truck out of the hole.
When contacted, Anand Swaroop of Water Board's Secunderabad division said that the Metro rail's pillars are to be constructed in the said area and water pipelines that came in the way had to be shifted. "It takes days to refill the trench and there should be no heavy equipment on the trench. Because of the leakage, the soil has turned loose and the heavy vehicle caved in."