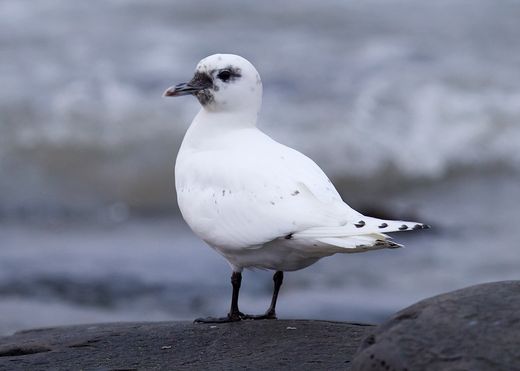 On par with a mammoth influx of juvenile Snowy Owls in North America (involving at least
750
so far), the UK has experienced its
largest-ever influx of first-year Ivory Gulls from the Arctic ice-shelf.
Following the first off Seaburn (County Durham) on 30th November,
an unprecedented five more have been discovered since......
A first-winter showed well by the coastal car park on Baleshare, North Uist (Outer Hebrides) on 4th December, whilst Dave Pullan watched a first-winter fly southeast past Tarbat Ness (Highland) the following day. The first of two birds was then located at Seahouses Golf Course (Northumberland) on 7th December, the two birds commuting between there and the beach throughout the rest of the day. That very same day, one visited Boddam Fish Factory (Aberdeenshire), before the first long-staying bird pitched up on a dead male Sperm Whale on Orkney at Evie on 12th December. This individual lingered for three days before disappearing.
And then, the inevitable happened, a first-winter was seen by a fishermen on the north Humber on 12th, being relocated by birders on 15th - and visiting two well rotting fish next to the Winestead Outstrays Pumping Station at Patrington Haven (East Yorkshire) and showing at just feet range.