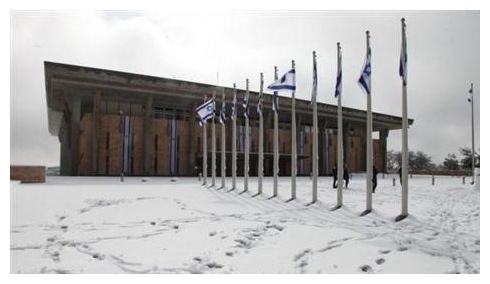 Jerusalem --- The heaviest winter snowstorm in December since 1953 hit Israel, including Jerusalem, Wednesday night and Thursday, prompting school closures and blocking access routes to the Israeli capital.
The stormy weather was expected to persist into the weekend, with snow reaching elevated areas as far south as the Negev Desert on Friday.
Snow began falling on Mount Hermon in the north. Snow is expected later in the week in areas of northern Israel and the Galilee, as well as in high elevations in central Israel.
The Jerusalem municipality sent out an alert that school studies in the capital were canceled. Courses at the Hebrew University campus on Mount Scopus were also called off for the day.
"Snow in Jerusalem is a cause for celebration for Jerusalemites and the many visitors who come to see the world's most beautiful city painted white," said Jerusalem's Mayor Nir Barkat."We hope the snow won't disappoint, especially for Jerusalem's excited children, who are looking forward to it."
Several major traffic arteries were closed throughout the country on Thursday morning, including parts of the tunnel road between Jerusalem and Hebron, and stretches of the Dead Sea road.
The Jerusalem-bound lanes on Route 1 were intermittently closed between Latrun and Jerusalem.
Temperatures are expected to be several degrees colder than usual for the rest of the week and dropping each day.
High winds have prevented flights from leaving the Sde Dov airport in Tel Aviv and slowed air traffic at Ben Gurion International Airport.
In Tel Aviv, parts of the city's boardwalk were under water due to heavy amounts of rain. Authorities threatened to close the major Ayalon Highway as the Ayalon River continues to rise.
As a result of the snowstorm, US Secretary of State John Kerry's scheduled meeting with Israel President Shimon Peres and Prime Minister Brenjamin Netanyahu in Jerusalem on Thursday was postponed.