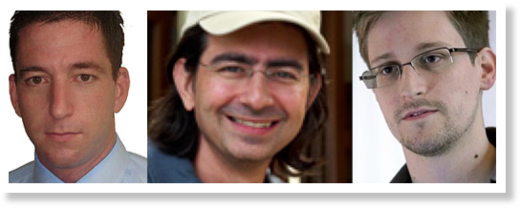 Can a massive cache of stolen government secrets help to launch a successful new company - perhaps the world's most eagerly awaited social enterprise?
That is the somewhat thorny question facing the founders of what is thus far dubbed NewCo, the shadowy media start-up funded by eBay billionaire Pierre Omidyar to the tune of $250 million in entrepreneurial partnership with the journalists who worked with former U.S. government contractor Edward Snowden to bare the spying secrets of the National Security Agency to the world.
Those leaks and the worldwide attention they've drawn to U.S. and United Kingdom surveillance are also clearly part of the social capital assets of NewCo; they provide the opportunity to pivot on the mass audience gathered by journalists and Snowden partners Glenn Greenwald and Laura Poitras and create a new large-scale journalistic enterprise with a dual bottom line: a successful news business with social goals. Indeed, that trove of government secrets still not revealed - Alan Rusbridger, Greenwald's former boss at
The Guardian
,
said
the newspaper has published less than one percent of the documents in its possession - may provide a rare opportunity to start an impactful and prominent media company from scratch.
The venture, so far shrouded in relative secrecy, is not without some controversy on several fronts. A lengthy back and forth between
Mark Ames
and
Paul Carr
of the tech journal PandoDaily and
Greenwald
focused on whether the venture essentially means privatizing the Snowden cache, while others - including Wikileaks'
Sarah Harrison
(who has served as Snowden's handler during his flight from the U.S. and subsequent residency in Russia) wondered aloud about Omidyar's involvement, and yesterday during a
long online debate
, Omidyar refuted a 2009 tweet that stated, "Anybody who publishes stolen info should help catch the thief." While some of it's inside baseball, the slow motion drip of the Snowden stories in partnership with media outlets around the world (including the
Washington Post
) was designed for the largest possible impact, and both the methodology and origin of those stories (and Snowden's motivations and actions) as well as what has actually been revealed about the vast infiltration of the NSA's surveillance capacity in digital life and the light public oversight of that surveillance has stirred a widespread public debate that blends public policy with journalism and ideology.
But I think the social enterprise funded by Omidyar in partnership with the journalists made famous by the Snowden scoops may be just as interesting in its own right. For one, it's the largest single investment in a start-up journalistic enterprise that anyone has seen in quite some time. And for another, that enterprise seems deliberately planned as an oppositional force to governments, in particular, democratic governments. It has a social goal, one that builds on the Snowden tidal wave to create value "in a way that leverages their work to the greatest extent possible, all in support of the public interest," according to
Omidyar
. Or as NYU journalism professor and media critic
Jay Rosen
put it in announcing his own involvement as an adviser, "Omidyar believes that if independent, ferocious, investigative journalism isn't brought to the attention of general audiences it can never have the effect that actually creates a check on power." He added that "as the founder of eBay he clearly has ideas about how a next generation news company can be built from the ground up."
I'm fascinated by the effort, and I believe it has a chance to create real impact and add to a more informed polity in general. But I also believe that NewCo has three major challenges as a serious social venture, especially one with such a strong political view and ideological outlook. It must attack these challenges with vigor if it hopes to succeed:
1. Transparency
There is a certain irony to this challenge because if nothing else, those who back Edward Snowden and the Greenwald-Poitras team undoubtedly believe in a much higher degree of freedom of information in public life. Yet actually running an enterprise can be difficult with glass windows. Terms of employment, stock holdings, the editing process, partnership and distribution deals, software contracts, legal structures, advertising agreements - all will be fair game to a media company whose reason for being will be greater public transparency. Further, in a culture of radical leaking and free-flowing information, that data will quickly find its way to the public domain more easily than in most ventures funded by billionaires, who tend to value their own financial privacy.
Just as clearly, NewCo will start out with serious enemies - those who would see it fail, and pounce on any misstep, bad calculation, or perceived lack of faith and honesty. Moreover, the demand for transparency in this venture is - and will be - entirely expected (and quite honestly, necessary) given the roots of the company in materials and information funded by the American taxpayer to the tune of billions of dollars. How NewCo deals with those understandable demands, and implements a system for turning the internal outward to the "people formerly known as the audience," as Jay Rosen call them, will form the keystone to the venture's accumulation of social capital in the future.
I offer two practical suggestions: a daily briefing on the editing process, created by the editors, that covers the who, what, where and why of what is covered by the company - and a "live" annual report that is updated as data becomes available on the types of stories covered, bylines, comments, social sharing, FOIA requests, the political contributions of all reporters and editors, their involvement in any activism or organizing, their fees for paid speaking gigs, their book contracts and payouts, advertising dollars received daily per advertising, and any other conflict-oriented metrics the organization can think of. Not only would this help to answer those powerful enemies, it would break new ground.
2. Ownership
Because of its founding DNA in vast quantities of exposed public secrets, NewCo should take careful pains to reveal its ownership structure to the public in full. If it is a for-profit company, we should know who owns the stock and how much. If it's a non-profit, there must be an independent board of directors that can act in the public interest. If it's a blended entity - for example, a for-profit company whose stock is owned by a private foundation - the same rules need to apply. Tell us who owns it.
Secondarily, the concept of ownership can and should extend to users - the audience, the community, the contributors to the discussion. It is not financial, but it does form some of NewCo's operating capital - the same way Kiva's incredibly active user base is part of the capital that supports its microlending effort. Those "owners" should be brought into the loop and asked about the organization's direction and performance.
3. Long-term vision
Finally, NewCo should strive to be the anti-WikiLeaks, an organization so mired in the dramatic saga of its founder that its own relevance and once promising model have been severely compromised. With Omidyar's founding quarter billion and the strong, feisty personalities of journalists like Greenwald, the new media company won't lack for attention at the outset. But its leadership should avoid the siren call of mere attention, and focus on the long slog of sustainability and impact. This is a decade-long commitment - or it certainly should be. This level of seriousness may require pulling back from the Twitter fights, minor squabbles, and sarcasm that often tend to mask real discussion. Indeed, it may require distance from Edward Snowden himself in the end.
It's no small thing to root for a new, large-scale, independent journalism venture that places the public's right to know at the center of its founding ethos. The challenges are clearly large, but the reward for perseverance, seriousness of purpose, and long-term thinking may be huge.