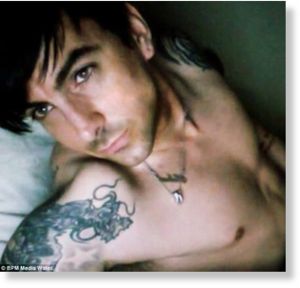 Paedophile rock star Ian Watkins
begged a lover to let him abuse her 10-year-old daughter and even suggested they have a child together so he could rape it
, it emerged today.
A female fan has also revealed the Lostprophets singer even offered to DJ at her child's birthday party in return for sex with the little girl.
For years the woman, in her twenties, had sex with Watkins as he flew her to gigs around the world, but she broke it off when she realised 'he is just insane'.
But before then they exchanged lewd messages online where the singer showed himself performing a sex act and asked if the 10-year-old could watch.
'He mentioned my daughter - she would have been 10 - and that's when I was like 'Oh my God, you need help and we can't talk ever again. You've really crossed the line now by talking about my daughter,' she said.
'I was talking to him on Skype. He wanted me to go and get her from the other room - he was masturbating - so she could see how hot he was and so that she could tell me how much she wanted him.'
In one chilling message, sent on March 4, 2011, the woman innocently asked him to DJ at her daughter's birthday party.
Watkins replied: 'Only if I can f*** her.'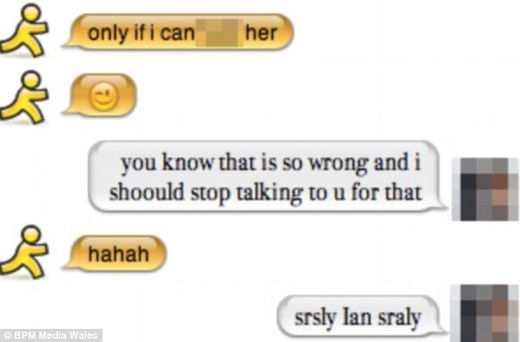 Watkins even suggested to the woman that the couple should have a baby together - so he could sexually abuse the defenceless infant.
'In 2010 he mentioned that
he wanted to have a baby because he wanted to raise it to be evil like me and him
- apparently, I'm evil now too,' she said. 'A year later he said he wanted us to have a baby so he could have his way with the baby and my daughter could watch how it's done.'
The woman broke off contact with Watkins following the graphic messages he sent about sleeping with her young daughter.
'
He was obsessed with the 'dark side' and wanted to go to hell
. He used his power to push the limits. I guess it was
all the drugs
- he just went way, way, way too far.'
Another message sent by Watkins read: 'The more drugs I do the filthier I am and the younger I get - it's a curse.'
The woman contacted South Wales Police and passed records of her conversations with the star to investigators following his arrest in December 2012.
'I was so relieved when he was arrested. I thought: 'Finally,'' she said. 'I thought he was going to get caught one day.'
Watkins' admission in court that he was a child abuser was 'not a surprise at all,' the woman added. 'He is a very sick person, controlling and manipulative.
'I still can't get over those women not protecting their babies when they knew what he was capable of. That is the most shocking.'
The woman told how the pair first met backstage at an overseas gig in 2004 and exchanged contact details.
Two years later she messaged the rocker asking for tickets to a music festival.
Watkins obliged and, after meeting in a hotel room the couple began a sexual relationship which included meetings over several years.
The Lostprophets frontman, who has sold more than 3.5 million records, even met the woman's daughter when he invited her to a gig in 2007. The woman, in her late 30s, said: 'We went to the show and we were backstage.
'He came out and met her and took some photos and everything was normal and then he later signed a poster addressed to my daughter, describing her as 'beautiful'.
She added: 'Later, he actually saw the photos of him and my daughter and her friend and a few years later said him and my daughter would make a really good-looking couple. She was aged seven in the photo.'
The woman, who lives abroad, described how Watkins 'got weirder and weirder and more dark as the years went by'.
She said: 'By 2010 I felt like 'Oh my God, he is just insane'.'
The pair would meet up regularly and chat online, while the internationally-renowned frontman would invite her to gigs around the world.
'He was always inviting me to his shows not to 'abuse' me - that's one of his favourite words - it was to help him,' she said.
'He wanted me to help him - I think it was because we were about the same age - find young girls at the show.
'He would say: 'You can find us some young sluts to abuse.''

The woman added: 'I told him: 'You are using your fame - those little girls love you and you are using your fame to live out your sexual fantasies.''
From early 2010, Watkins would
talk almost obsessively about drugs and his child abuse fantasies to the women he was meeting for sex
, the woman claimed.
'He would talk about what he wanted to do to babies but you never think there's a fan out there that would say: 'Here's my baby'.
'We knew what he wanted to do but it's an unthinkable act - you don't think he is going to attempt to rape a baby.'
She added: 'He wanted to be evil. He would say he was evil and would say he wanted everyone to know.'
The star's perverted fantasies were not limited to children, the woman claimed.
'In 2011 Lostprophets went to play a festival in the country where my mum lives and he offered to get me tickets. We were talking on Skype and he said: 'You can come and help me abuse young sluts after the show.''
When she declined, Watkins asked instead: 'What about if we hook up - me, you and your mum?'
The woman added: 'He got obsessed about it for a few weeks - his little obsession while he was there was me, my mum and him.
'I wouldn't fly there so he just kept asking me for my mum's phone number and address - he said he would go there and surprise her.
'He said: 'She won't be able to say no to me, no-one says no to me.'