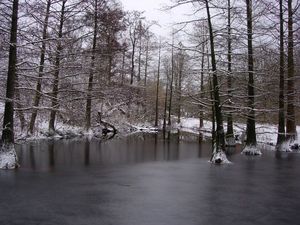 Historic December cold descended upon parts of the Pacific Northwest early Sunday morning, as the mercury dipped to as low as -41 degrees below zero in Oregon. Under a thick blanket of snow, several locations set new records.
At Lakeview, Oregon the mercury dropped to -27 degrees below zero, setting a new all-time record for that location. The previous record was -22 degrees below zero set back in February of 1933 and again in January of 1937.
Perhaps even more impressive was on the west side of the Cascade mountains where Eugene, Oregon fell to -10 degrees below zero Sunday morning. Ironically, this is not an all-time record for Eugene. As luck would have it, Eugene's all-time record low is -12 degrees below zero was set on this very day back in 1972, making today the second coldest day in Eugene modern day history. Records date back more than 123 years (to 1890) in Eugene.
Other daily records were also set in Vancouver, Washington and many other stations.
Here are some of the Sunday morning low temperatures for selected cities;
Burns, Oregon = -30 degrees below zero
Lakeview, Oregon = -27 degrees below zero (NEW ALL-TIME RECORD)
Redmond, Oregon = -27 degrees below zero
Eugene, Oregon = -10 degrees below zero.
This was Eugene's second coldest low on record (since 1890
). All-time record low is -12 degrees.
Salem, Oregon = 8 degrees
Vancouver, Washington = 9 degrees (new record for the day)
Portland, Oregon (International Airport) = 12 degrees
Astoria, Oregon (along the coast) = 13 degrees
Equally impressive was the fact that out of nearly 750 stations reporting across Oregon this morning,
more than 400 of them fell below zero last night.
Here is a list of all Mesowest reporting stations across Oregon that reached -20 degrees below zero or colder last night:
Horse Ridge (US 20) -41
CHRISTMAS VALLEY -39
DIMLKE -35
Sand Creek (US 97 M -34
La Pine DW9636 -32
Beatty -32
Bly (OR 140 MP 53.6 -32
MAZAMA -32
KIRK -31
KLAMATH NWR -31
La Pine DW9630 -30
LaPine (US 97 MP 16 -30
Burns Municipal Air -30
Crescent -30
Cresent (US 97 MP 1 -30
FOSTER FLAT -29
Agency Lake -29
CRAZYMAN FLAT -29
Lorella -28
CABIN LAKE -28
COLD SPRINGS -27
Redmond, Roberts Fi -27
Chemult (US 97 MP 2 -27
Lakeview, Lake Coun -27
Meacham -27
Sisters CW1010 -26
Seneca CW0732 -26
Riley (US 20 MP 104 -26
BARNHT -26
Ukiah CW9027 -26
Sisters DW9869 -25
CROW FLAT -25
GERBER RESERVOIR -25
GERBER RESERVOIR -25
FORT ROCK -25
LAKEVIEW -25
Lakeview (US 395 MP -25
Sunriver DW9680 -24
UMLI -24
COLGATE -23
Sisters (US 20 MP 1 -23
Seneca EW3547 -23
ALLISON -23
BROWNS WELL -23
DANNER -23
CROOKED RVR ABV PRI -22
Bend Airport AWOS -22
Sunriver -22
WICKIUP WEATHER STA -22
P HILL -22
Camp Sherman CW5507 -22
CHLOQN -22
COFFEE POT FLAT 2 -22
Lakeview CW2849 -22
MCKENZIE -22
MALHEUR RVR BLO WAR -22
HEREFORD -21
Prairie City EW2055 -21
GRIZZLY NEAR CULVER -21
Bly Mountain (Ore 1 -21
CHEMULT ALTERNATE -21
SPRAGUE RIVER NEAR -21
Spring Creek (US 97 -21
Worden -21
Lakeview /Center & -21
UNITY DAM AND BURNT -20
PRINEVILLE 4NW -20
Bend/Road Departmen -20
Sunriver DW9658 -20
Sunriver KA7IKB-1 -20
FISH FIN RIM -20
Klamath Falls Inter -20
HEHE 1 -20
Steve Pierce
Northwest Weather Consultants (NWC)