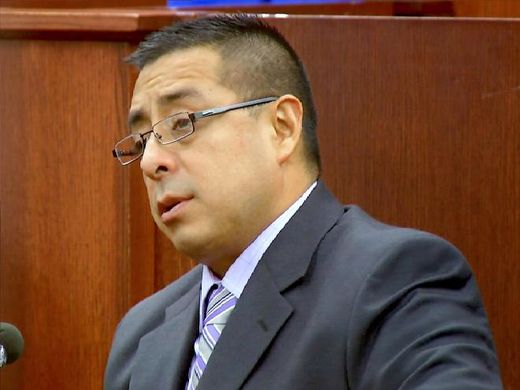 The victim of an in-custody beating that led to the firing of Milwaukee Police Detective Rodolfo Gomez Jr. has taken the first step toward filing a civil suit, records show.
Deron Love, who was handcuffed to a wall when
Gomez beat him in an interrogation room
, is seeking more than $50,000 in damages, according to a notice of claim filed with the city. The document lists the city, the department and Gomez as potential defendants.
Love was taken to the hospital
after being punched by Gomez
on Aug. 14, according to court records. Love is charged with two felonies in connection with the death of his 7-month-old son. He has pleaded not guilty.

Comment: So, someone who is charged in the death of their 7-month old son deserves to be brutalized by police? Are we blaming the victim here?


Gomez, who was not involved in the arrest of Love, was called in to interrogate him. Earlier, the detective had questioned at least three witnesses in the case.
Gomez, 47, punched Love in the face and upper body, then struck him with a knee
, according to the notice of claim. Another officer then rushed into the interrogation room "and pulled Detective Gomez off Love," the notice says. A short time later, Gomez re-entered the room,
forcibly pulled Love's head back and kicked him again
, the notice says.
As a result of the beating, Gomez has been charged with felony misconduct in public office. A scheduled Thursday court appearance in the case was postponed until January.
The entire incident was captured on video. The Police Department has refused to release the video to the
Milwaukee Journal Sentinel
, citing the criminal case.
Gomez was fired
from the department this week for failure to use restraint in dealing with a prisoner.
While the district attorney's office was reviewing the case against him, Gomez filed for duty disability retirement, claiming stress due to the internal investigation.
Gomez's application also says he suffered a mental breakdown as a result of 31/2 years spent investigating the murders of nine children - as well as the death of a pregnant woman whose fetus was cut from her womb, killing them both.
His application for the benefit, which provides disabled officers with 75% of their salaries tax free, was brought to light by
a Journal Sentinel investigation
last month.
Gomez is among nine current or former officers who have applied for or received duty disability during or after a misconduct investigation.
After the news coverage, the retirement system's board implemented a
new policy
that allows the department to have input into whether officers receive duty disability. Milwaukee Police Chief Edward
Flynn is fighting Gomez's attempt to receive the benefit
, saying it was "fraudulent."