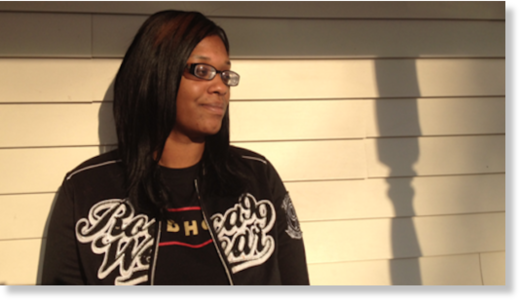 A Michigan woman said she was
denied proper medical treatment
three times by a Catholic hospital because it would have conflicted with the church's teachings.
Tamesha Means said she was only 18 weeks pregnant in 2010 when her water broke prematurely, and she went to Mercy Health Hospital in Muskegon - the only hospital within a half-hour of her home.
A lawsuit filed Nov. 29 by the ACLU claims
health care providers
did not tell Means that she had little chance of successfully continuing the pregnancy or that her own health was at risk if she tried to continue the pregnancy.
Instead, the suit claims, Means was simply sent home.
But Means returned to Mercy Health the following day, bleeding and in pain, and the suit claims she was again sent home without being told about the risks of continuing her pregnancy.
Means came back a third time - now suffering a serious infection - and the suit claims health care providers intended to send her home yet again when she went into premature labor.
The baby died within hours of its birth, and the suit claims that Means nearly died herself without being told that ending a pregnancy that had little chance of success was the safest course of action for her own well-being.
That's because the Catholic-sponsored hospital must adhere to the Ethical and Religious Directives laid out by the U.S. Conference of Catholic Bishops to govern its hospitals - even if they conflict with medical standards of care, the ACLU says.
"When you show up at a hospital, in need of medical aid, you expect that you're going to get the care that you need - that the doctors and nurses will figure out what's wrong, explain to you the options for treating it, and give you the best medical care possible," the ACLU said in a press release.
The civil rights group said Means was not alone, describing other instances where patients were not told that ending a risky pregnancy was their own safest chance for survival.
The suit claims the U.S. Council of Bishops is responsible for the unnecessary trauma and harm of Means and other patients.
"The bishops aren't doctors, and yet they issue rules that tie doctors' hands, preventing them from giving their patients full information about their health care options and, in some cases, preventing them from providing medically appropriate care," the ACLU says. "That's not right, and it's time to end it."
The suit asks to have the council's actions to be declared negligent and for the award of compensatory, punitive or exemplary damages in an amount to be determined at trial.
A family and health law expert
told
the Associated Press that the ACLU must prove the conference had direct control over this case or over hospitals, in general.
Robin Fretwell Wilson, a University of Illinois professor, said the bishops have moral authority over Catholic hospitals but are "so many layers removed" from day-to-day administration.