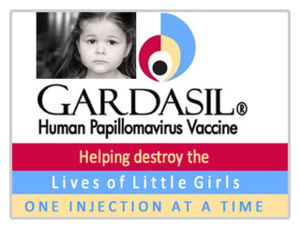 Mr. Jean-Christophe Coubris, defence lawyer for Marie-Oceane, a vaccine injured teen, has filed charges with the French public prosecutor in Bobigny, in the outskirts of Paris, against both
Laboratoire Sanofi Pasteur MSD
and the French authority
Agence Nationale du Medicament (ANSM)
, the French National Medicines Agency, for breach of their manifest duty to ensure safety and for disregard of the precautionary and prevention principles.
Just a few months ago,
hundreds of adverse reactions from the cervical cancer vaccine in Japan
caused vaccine injuries and disability in many teenagers courtesy of Cervarix and Gardasil HPV injections.
In July, 2013,
the Japanese health ministry issued a nationwide notice
that cervical cancer vaccinations should no longer be recommended in Japan. Japanese teens who received the vaccines are now in wheelchairs with damage to their brains and spinal cord.
The HPV vaccine is possibly the
biggest vaccine hoax in the last century
. HPV vaccines are nothing more than a worldwide exercise in profiteering at the expense of children's health. Due to the overwhelming amount of side effects associated with the vaccine, health agencies are now encouraging health professionals not to report adverse reactions, a clear indication that something is very wrong.
Vaccine Injured Teen Files Lawsuit
An initial injection of Gardasil was administered to Marie-Oceane, age 15 on October 11th, 2010. The vaccine was advised for the prevention of cervical cancer.
A second injection of the vaccine was administered to Marie-Oceane on December 13th, 2010.
The first clinical symptoms appeared in mid-February 2011 and were rapidly diagnosed as acute disseminated encephalomyelitis or multiple sclerosis.
Marie-Oceane was repeatedly hospitalised over subsequent months. She temporarily lost her sight and the use of her legs. During one of these crises, her face was completely paralysed.
Treatment at the Bordeaux University Hospital has resulted in a slight improvement in her overall state but with serious after-effects, including among others, the constant fear of yet another 'flare-up' of her disease.
As soon as the first symptoms appeared, Marie-Oceane's doctors suspected a link with the Gardasil vaccine.
Marie-Oceane's parents have reported this reaction to the
Commission de Conciliation et d'Indemnisation des Accidents Medicaux (CCI) d'Aquitaine
(Aquitaine Medical Accident Settlement and Compensation Authority), to establish the cause and effect role of the vaccine.
The conclusions of the panel of experts were received in June 2013.
They stated that there appeared to be a clear link between Marie-Oceane's serious ailments and the vaccine.
"An in-depth analysis of all the information in the file, which included a wealth of references, confirms that Marie-Oceane B's neurological disturbances are consistent with iatrogenic post-vaccinal disease."
In an announcement published on the 18th September 2013, Mr. Patrick Maire, Chair of the Aquitaine CCI, stated that
Laboratoire Sanofi Pasteur MSD
was responsible.
Marie-Oceane accuses
Laboratoire Sanofi Pasteur MSD
of neglecting to inform recipients of the Gardasil vaccine of the risk of central nervous system inflammation while such risk was identified as far back as 2009 in adverse effects reporting.
Marie-Oceane considers that by taking no action against
Laboratoire Sanofi Pasteur
, the ANSM has clearly failed in its role of medicine watchdog.
A Press Conference wasl be held at the Bordeaux offices of Cabinet Coubris Courtois et Associes, 31 rue du Bocage, Bordeaux, on Monday 26th November at 11am, and attended by Marie-Oceane and her family.
Just two years ago, a publication in the
Annals of Medicine
exposed the
fraudulent nature of Human papillomavirus
(HPV) vaccines. Key messages the researchers report include a lack of evidence for any HPV vaccines in preventing cervical cancer and lack of evaluation of health risks. The researchers stated that physicians should adopt a more rigorous evidence-based medicine approach, in order to provide a balanced and objective evaluation of vaccine risks and benefits to their patients.
Source:
Vaccine Liberation Army