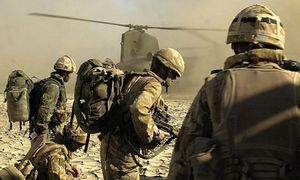 A Royal Marine's murder of a wounded Afghan in his custody lays bare the truth of military campaigns
With the official Remembrance Day ceremony closing in, and soldier worship about to hit its tedious annual peak, the public have been given an unexpected glimpse of war's unsanitised face.
A Royal Marine has been convicted of murdering a wounded Afghan in his custody
. Two marines were acquitted.
While the public has for 12 years been told otherwise, the Afghan occupation is not simply a case of good guys and bad guys. Nevertheless, tired references to "bad apples" will now flow. The Ministry of Defence will repeatedly and frantically highlight the supposed "good work" the troops have been doing in the smoking ruins of Afghanistan. A stock statement will be released by the MoD about military values and high standards of behaviour. Allegations of law-breaking, they will tell us, are investigated thoroughly and can result in disciplinary action up to and including court martial, discharge and prison. And all of this will obscure rather than address the issue.
From the outset this episode has been written through with the brand of self-delusion that has come to typify the "good war". The original arrest of seven marines in 2012, following
the discovery of footage on a laptop
, sparked an indignant Facebook campaign to "
Support the 7 Royal Marine Commandos arrested for murder in Afghanistan
". To date, it has attracted 63,000 "likes". If nothing else, this highlights how a section of society can leap to the defence of servicemen long before the facts are known.
It is my view that Royal Marine commandos are the best light role infantry in the world - bar none. Bootnecks, as they are colloquially known, are capable, professional and robust soldiers. But I can say all this without once gushing about "heroes" and without ever once needing to shy away from an uncomfortable truth simply because it happens to concern soldiers.
We should not feel compelled to point out that those brave men and women are fighting in Afghanistan to secure our safety every time the military is mentioned. First, because it is not true that they are; and second, because such blustering at the merest glimpse of camouflage clothing is an obvious and embarrassing capitulation to dogma.
The question at the core of this is not how we can most tastefully play down criminal acts carried out by the services. The question we ought to be brave enough to ask is: why is there such surprise when atrocities occur? There is a belief in moralistic sections of the political left and the more dumbly macho sections of the political right that soldiers, as a rule, relish killing people. Both sides are wrong - a trained killer does not equate to mindless robot.
To understand why an occupying soldier turns to vigilantism and murder, we can do worse than look at their daily experience, which can never be divorced from the over-arching political context. Killings like this most often occur when soldiers have lost a comrade or comrades. They lose comrades because they are in a war. Killings like these can reasonably expected to be carried out by all sides in any conflict.
What radicalises soldiers then is not too far from what radicalises lone wolf killers, terror cells and drone strike orphans: the impact of policy on an individual and the people you care about. Marine A, now convicted, was a 39-year-old senior non-commissioned officer. He had done six tours of Afghanistan as an infantryman. He is likely to have experienced countless engagements and lost various friends in a failing war. This does not excuse his actions, but why should he and his fellow marines' callous attitude to death,
shown in the transcripts of the helmet camera recording
of the event, be a surprise?
When a political decision is taken that puts men who are primed for violence into a war, bad things will happen. This is another reason to make sure that war is the very last resort and not, as in the case of the post-9/11 wars, something that is engaged in lightly, in a spirit of hubris or in the pursuit of narrow interests.
At its core, this is a problem at the political level, which can only be resolved or avoided at the political level. It does not diminish the responsibility of the killers to say the issue is more complex than bad apples letting the side down. The culture of irrational and uncritical soldier worship serves only to blind us to the realities of war and occupation - and this contrived, blinding effect, I have long suspected, is rather the point of lionising the military.