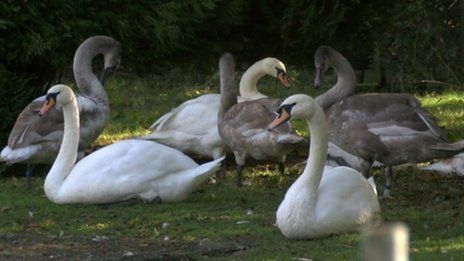 Fourteen mute swans have died of a "mystery" illness at a wetland reserve in Dorset, the RSPB has said.
The charity said "half the herd" at Radipole Lake in Weymouth had been affected since September.
Two sick swans are being treated at West Hatch Animal Centre in Somerset. No other bird species have been affected.
The Animal Health and Veterinary Laboratories Agency is investigating the illness.
Tony Whitehead, from the RSPB, said: "The birds were showing signs of lethargy, so they were being unusually slow, and clearly seemed to be struggling in the water."
He described the deaths as "significant" and of "real concern".
Peter Venn, the manager at RSPCA West Hatch in Taunton, said inflammation of the intestine can "cause problems" for swans, but said this had not yet been proven to be the case at Radipole Lake.
The RSPB said the Environment Agency (EA) had tested the water for pollutants but the results are not yet known.