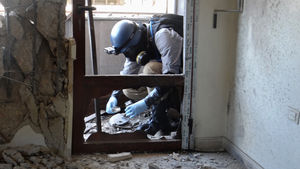 The rebels used chemical weapons in north-eastern Syria near the border with Turkey on Tuesday, a Lebanese TV channel Al-Mayadeen reported.
The toxic shell exploded near a Kurdish defense forces' checkpoint close to the border with Turkey in the city of Ras al-Ayn al-Hasakah.
The attack was reported by Kurdish defense forces who are conducting military operations against the rebels in the region.
They are quoted as saying they saw toxic yellow smoke that followed the shell explosion, while some of them had symptoms of severe chemical intoxication accompanied by nausea.
The reported chemical attack comes amid the second day of fierce fighting in the town.
The Kurdish forces have successfully repelled several attacks by armed groups of extremists of the Nusra Front ( Jabhat al-Nusra), and the Islamic State of Iraq and the Levant, killing 28 militants.