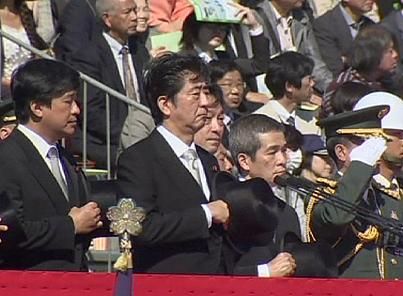 The role of Japan's Self-Defence Force could be set to change. That was the message to troops on parade in Asaka at its annual review.
Prime Minister Shinzo Abe said he will not tolerate the use of force to change the region's status quo.
It is a coded expression widely understood by analysts to refer to what Tokyo sees as China's aggressive maritime expansion. It could lead to a change in Japan's defence policy.
"The security situation surrounding Japan has become more serious. Self Defence Force members must let go of the old notions that all you need to do in peace time is training and that defence forces can be a deterrent just by existing," said Japan Prime Minister Shinzo Abe
Within the region the development of weapons of mass destruction and ballistic missiles by North Korea is also a threat to Japan's sovereignty said the PM.
The growing tensions between Asia's two largest economies heightened with reported comments Shinzo Abe approved a policy to
shoot down foreign drones that ignored warnings to leave Japan's airspace
. Chinese Defence Ministry Spokesman Geng Yansheng responded: "If Japan does what it says like shooting down planes it is a serious provocation to us, it is an act of war. We will surely undertake decisive action to strike back."
The disputed claims over the islands in the East China Sea reflects, say analysts the power shift created by China's meteoric and diplomatic rise while Japan has been struggling in a two-decade economic slump.