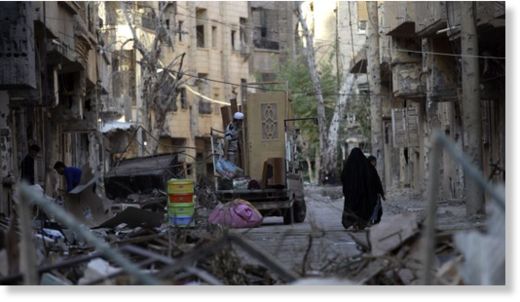 At least 22 people are now suspected of having polio in Syria, where health officials are scrambling to respond to the first outbreak of the crippling viral disease in 14 years, the World Health Organization (WHO) said on Thursday.
Most of those stricken with acute flaccid paralysis - a symptom of diseases including polio - in the eastern province of Deir al-Zor are children under the age of two, WHO spokesman Oliver Rosenbauer said.
"There is a cluster of 22 acute flaccid paralysis cases that is being investigated in that area," Rosenbauer told Reuters. "Everybody is treating this as an outbreak (of polio) and is in outbreak response mode."
The WHO, a U.N. agency, announced on Saturday that two suspected cases of polio had been detected, the first appearance of the disease in Syria since 1999.
Initial tests came back positive for polio in two of the 22 cases and final laboratory results due next week from a WHO reference laboratory in Tunis are "very, very likely" to confirm presence of the virus, Rosenbauer said.
There is no cure for the highly infectious disease, it can only be prevented through immunization, usually three doses.
More than 100,000 children under age five are deemed at risk of polio in Deir al-Zor province, he said. Most of the countryside is in opposition hands but the city of Deir al-Zor itself is still partially controlled by government forces.
"The main concern right now is to quickly launch an immunization response," Rosenbauer said. Vaccination campaigns are being planned across Syria from November but logistics in a civil war are still being discussed.
With some 4,000 Syrian refugees leaving the country daily, immunization campaigns are also planned in neighboring countries, where there may be gaps in coverage, he said.
Most of the 22 victims are believed never to have been vaccinated or to have received only a single dose of the oral polio vaccine, Rosenbauer said.
Polio invades the nervous system and can cause irreversible paralysis within hours. It is endemic in just three countries, Nigeria, Pakistan and Afghanistan, but sporadic cases also occur in other countries.
Rosenbauer, asked whether the virus may have been imported into Syria by a foreign combatant fighting in the civil war, replied: "The first step is virological verification that it is the polio virus.
"The next step is that every isolated virus gets looked at genetically to see where is the parent. Hopefully that will provide some clarity on where it would have come from," he said.
The outbreak is the latest setback to international efforts to eradicate polio - as well adding another dimension to Syria's worsening humanitarian crisis as the war forces people from their homes and destroys health systems.
Polio cases worldwide decreased from an estimated 350,000 cases when the campaign began in 1988 to 223 reported cases in 2012, according to the WHO.
So far this year - not including the 22 unconfirmed cases in Syria - there have been 296 cases of wild polio virus worldwide.