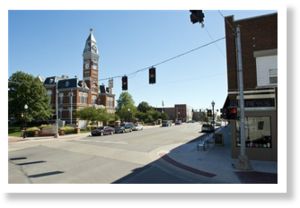 Tiona McKinney knew that something had changed in her sleepy college town when she woke last week to the sound of screaming.
"That was right outside my window," said McKinney, 20, a Northwest Missouri State University senior from St. Louis.
A fiery diatribe was coming from her adult neighbor. The woman was ranting in a loud and angry voice, midmorning, across the lawn to no one in sight about the disturbing details of the alleged sexual assault of Daisy Coleman and the investigation that followed.
In this close-knit town of 12,000 some 90 minutes north of Kansas City, there were few who weren't already painfully aware of the murky particulars of a case that had divided the city.
How Daisy Coleman, in 2012, was a 14-year-old freshman new to Maryville High School. How, late at night in early January of that year, she and a 13-year-old friend were drinking and sneaked out of Coleman's mother's house to a gathering at the home of Matthew Barnett, a 17-year-old senior football player and grandson of a former Republican state legislator.
How, there, Daisy drank more and then, as she would allege, Barnett had non-consensual sex with her. A 15-year-old at the house had sex with the 13-year-old friend after she said no multiple times.
Barnett conceded to having sex but said it was consensual. His buddy, 17-year-old Jordan Zech, conceded that he recorded part of the act on a camera phone, but the images were later deleted.
When the story hit the local news that the boys were being charged with felonies - Barnett with sexual assault, Zech with sexual exploitation of a minor - the town's sentiments split. Some boys at the gathering were ostracized and suspended from their sports teams.
The chasm became even deeper two months later, in March 2012, when the Nodaway County prosecuting attorney dropped the felony charges, claiming a lack of evidence and cooperation on the part of the Colemans, who, under incessant harassment, felt hounded from their home.
After they moved to another town, their former house burned to a charred frame, the cause unknown.
Now a story that locals thought had been put to rest as a sad chapter in city history has suddenly resurfaced and intensified under a national and international spotlight after
The Kansas City Star
last Sunday chronicled Daisy Coleman's story and her mother's quest for justice.
Fueled by the speed and needs of the Internet and cable television news, the story went viral. CNN and other news networks,
The Huffington Post
, the
New York Daily News
and media from Canada to Australia waded in.
The online "hacktivist" group Anonymous brought its cyberforces to bear on Maryville.
Outside McKinney's window, her neighbor was livid.
"She was screaming," McKinney said. "It was out of control."
Out of control is precisely how many residents said they have been feeling all week, with Coleman's story stirring talk that Nodaway County Prosecutor Robert L. Rice may have dropped the charges because of the Barnett family's political connections.
It is an assertion that Rice has vociferously denied. On Wednesday, he called on a Democratic judge in Nodaway County to appoint a special prosecutor who will decide whether to reopen the case and refile charges.
In Maryville, residents say that not only do they once again feel whipsawed by claims and counterclaims - whether to believe Daisy's mom, Melinda Coleman, or the prosecutor and what to think about what transpired between Barnett and Daisy Coleman - but also by another emotion:
Fear.
At the A&G Restaurant on North Main Street, the phone keeps ringing. The callers spit vile and even physical threats, the owners said, because of their incorrect impression that the business is owned by the family of either of the previously accused boys, Barnett or Zech.
Although Barnett did work there briefly as a dishwasher, neither of the boys' families have, or ever have had, any ownership connection to the restaurant.
One then-high school student who is a member of the family that owns the restaurant was at the gathering at Barnett's home on the night that Daisy Coleman allegedly was sexually abused. Although that student was never implicated, he and other family members are being threatened.
"We got a phone call last night: 'Your son is going to get a bullet through his head,'" said one of the owners, who asked that his name not be used for fear that his family might become an even greater target.
"I've never experienced in my life such hatred. Hate. Pure hate," said his wife.
On Yelp, an online restaurant review site, nearly 300 excoriating false reviews were posted against the restaurant - such as "employee rapists" - before the site removed them for violating its content guidelines.
"SO GENEROUS!" one read. "Even once you're stuffed, they keep bringing you food - almost like it's against your will! When I told them to stop, they smiled and reassured me that I was asking for it."
The phone keeps ringing.
"They scream at us. They scream at us over the phone," the wife said.
The Maryville School District got police involved after a Twitter user posted a note declaring he would burn down the school. The user was from California. Still, at Friday night's football game, extra police were called in. Unfounded rumors, such as bomb threats against the school, had already spread among the parents.
Tess Fornander, 46, who lives adjacent to the football field, said she would keep her 11-year-old daughter from walking down to the game as she typically does, not just because of threats but also because she didn't want her daughter subjected to any rhetoric against Daisy Coleman.
"I didn't want her to even possibly hear anything about the girl being wrong," said Fornander, expressing strongly that something needed to be done to bring the Colemans closure. "Her house was burned down. She had to leave town. It's just crazy."
At a news conference and later at her front door, Barnett's mother, Shirley Barnett, called on the public to cease threatening people throughout the town with no connection to the case.
At McDonald's, Roland Tullberg, a former Maryville school superintendent, sat with a regular group of friends sharing coffee. In some ways, they said, the week's events have been the last thing they wanted to talk about, but the only thing they talked about.
"The worst thing to my wife and me is that we have this wonderful little town here and you (the media) have made us look like a bunch of scum," said Mahlon Fairchild, 83. "It's done a disservice to Maryville, a disservice to our legal system. We're hurting. We're hurting. It's explosive."
He pointed out that the town is not far, less than 15 miles away, from Skidmore, Mo., whose reputation was seared into history with the 1981 killing of Nodaway County bully Ken Rex McElroy.
McElroy had terrorized the town for years before a band of residents surrounded his truck in an example of frontier justice and shot him to death.
Although many witnesses saw the killing of McElroy, they refused to identify the shooters. No one was ever convicted.
Perhaps the most notorious headlines written for Maryville came more than 80 years ago for the 1931 lynching of Raymond Gunn, a black man who was going to trial on rape and murder charges.
When he got to the courthouse, a mob set upon the sheriff's car and took Gunn. They marched and dragged him three miles to the schoolhouse where the teacher had been killed. They tied him to the roof, doused with gasoline, and set the school on fire. Gunn burned to death in front of hundreds of onlookers.
"Lynch with Fire," read the headline above one story in
The Kansas City Star
. Another read, "Missouri in Shame."
Tullberg fears that the Coleman story is casting Maryville as a community that is similarly backward.
"It makes Maryville, to people at a distance across the land, look like a community that doesn't care about the individual," he said. "I want you to know that this community is a very fine community. ... It makes people think we don't care. We do care."
Near the Nodaway County Courthouse in Maryville, Cindy Kenny co-owns Bittersweet Flowers & Gifts. Since the Daisy Coleman story has made national news, she said, she has been asked by anonymous senders to deliver bouquets of protest daisies to Rice, the prosecutor.
Over the last week, there have been calls on social media for a peaceful candlelight vigil Tuesday evening outside the courthouse, with protesters carrying daisies in support of Daisy Coleman.
"I'm a businesswoman," said Kenny, who increased her stock of the flowers.
She also feels torn over the case.
"I support Robert Rice because if he felt he didn't have a case, he didn't have a case," Kenny said. "But I also support the family. As a mother, if it was my daughter, I wouldn't have stopped trying either."