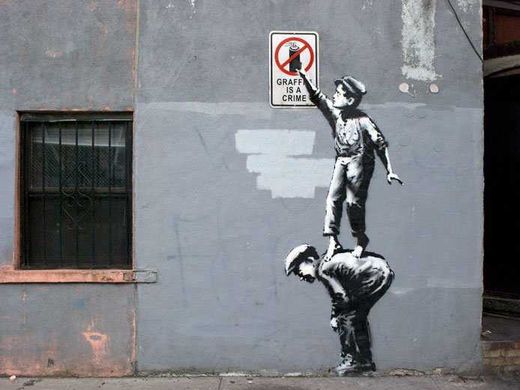 British graffiti artist Banksy has been told to stop painting murals in New York.
While delighting lovers of street art by painting a new work in a surprise location in the city every day this month, the elusive artist has incurred the wrath of Michael Bloomberg, New York's mayor.
The tough-on-crime Mr Bloomberg said that graffiti ''does ruin people's property'' and was ''a sign of decay and lost control''.
''Nobody's a bigger supporter of the arts than I am,'' said the mayor, who donates millions of dollars from his personal fortune each year to the city's artistic institutions. I just think there are some places for art and some places where - no art. You running up to somebody's property or public property and defacing it is not my definition of art. Or it may be art, but it should not be permitted. And I think that's exactly what the law says.''
His remarks echoed a decade-long debate in Britain and Australia over what should be done about murals on the streets of London by the artist, whose works now sell for hundreds of thousands of pounds.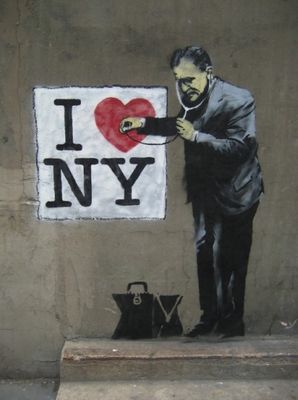 The mayor said any Banksy work discovered on city property would be swiftly removed. But he declined to be drawn on whether the New York Police Department should go after the artist.
Earlier this week the
New York Post
, the city's leading tabloid newspaper, claimed under the front-page headline ''Get Banksy'', that police were actively pursuing him to put a stop to the graffiti.
Amid denials from police spokesmen that he was a priority, Banksy said in a message on his website: ''I don't read what I believe in the papers,'' and he continued his ''residency on the streets of New York''. During his project, entitled ''Better Out Than In'', on most days this month Banksy has left new works on walls and doors. He posts a photograph and an approximate location for the new piece on his website. But on day 13, he set up an unmarked stall in Central Park and sold signed small canvases, which would typically fetch tens of thousands, for just $60 each. The stall drew just three customers but one bought a small goldmine.