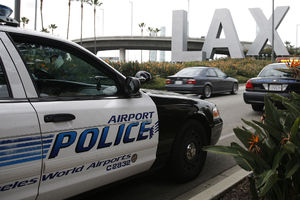 For the second time in two days, dry ice placed in a container exploded at Los Angeles International Airport on Monday night. No injuries were immediately reported.
The explosion took place just before 8:30 p.m. at the Tom Bradley International Terminal, the airport police said.
CNN affiliate KCAL
said the blast took place in an employee restroom, inaccessible to non-employees.
"The investigation is in its infancy," said Los Angeles Police Detective Gus Villanueva. He added that there's "no nexus to terrorism at this point." The FBI was called in.
On Sunday, dry ice in a plastic bottle exploded in an employee restroom at the airport, causing a brief shutdown of Terminal 2, the FBI said. No injuries were reported, and Terminal 2 resumed operations after a brief evacuation.
The airport has nine terminals.