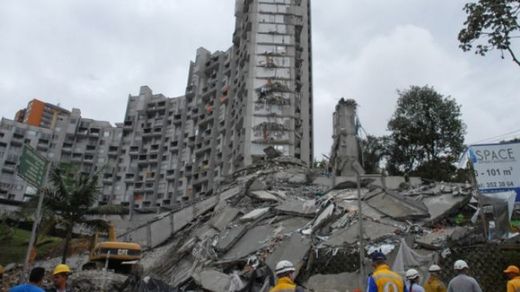 A 21-story building has collapsed in Colombia's second-largest city, leaving at least two people dead with several others feared missing.
The incident occurred in the Colombian city of Medellin on Saturday when construction workers were trying to fix a crack in a load-bearing structure of the building, media reports said.
Rescue workers continued to search for missing people after the apartment building collapsed, leaving two unidentified victims so far.
Among those still missing were a team of construction workers, a security guard and a local resident who ran back into the building at the last minute to retrieve an object.
Emergency officials said they rescued two people after the collapse, though one of the individuals could be paralyzed.
The 54-unit building had been evacuated on Friday due to the appearance of cracks on the complex.
Following the collapse, five other neighboring buildings in the area were evacuated. Another tower is also showing cracks, said Medellin Mayor Claudia Restrepo.
Authorities have launched an inquiry into the cause of the collapse.