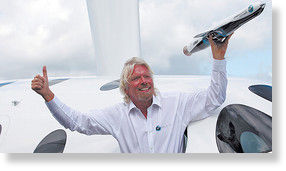 Sir Richard Branson has had to defend his tax arrangements after a spotlight was cast on the billionaire's decision to move to his luxury island in the Caribbean.
The entrepreneur, one of the most public advocates for British industry across the world, has not paid taxes on non-UK personal income since moving to Necker Island in 2007.
The founder of the Virgin empire has sold or transferred property he owned in the UK to his grown-up children, Sam and Holly.
A report in
The Sunday Times
highlighted the lack of British tax being paid by Sir Richard, who is frequently pictured with Union Jacks and has been reported to talk disparagingly of tax exiles.
Sir Richard
said
, in a blog post on Sunday, that he moved to the island seven years ago for lifestyle reasons.
"I have not left Britain for tax reasons but for my love of the beautiful British Virgin Islands and in particular Necker Island," he said.
The 63-year-old added that he now worked mainly on not-for-profit ventures, although also took advantage of his home to "kitesurf, surf, play tennis, swim, do Pilates and just play". He is also planning commercial flights to view the moon from space.
Sir Richard added: "I have been very fortunate to accumulate so much wealth in my career, more than I need in my lifetime, and would not live somewhere I don't want to for tax reasons."
Virgin said Sir Richard had stepped back from executive operations of the group when he moved to the island, while his focus on not-for-profit ventures meant that he was not earning much taxable personal income anyway.
The billionaire's remaining business interests are owned by family trusts, it added, while the various Virgin companies that operate airlines, mobile phone services and health clubs comply with the tax rules of their local countries.
As a non-resident of Britain, Sir Richard is not allowed to spend more than 183 days in the UK in any one year. His spokesman said much of the billionaire's time off the island was spent travelling elsewhere for speeches aimed at helping other entrepreneurs. All money earned from these engagements is given to charity, according to Sir Richard.
The Virgin founder said on his blog: "I spent 40 years working day and night in Great Britain building companies and creating competition and choice for consumers across a whole range of industries.
"The companies we created from scratch have created tens of thousands of jobs and paid hundreds of millions in tax (and will continue to do so)."
Necker Island is open to tourists. Rates to stay on the island, which has been developed by Sir Richard over the past 30 years as a luxury resort, start from $26,600 for two for a seven night stay.