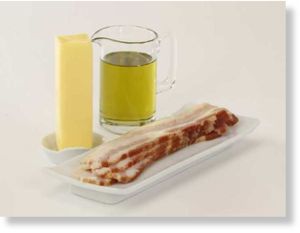 Researching the viability of ketogenic diets for therapeutic usage was one of the original interests that launched this blog. And while there is growing data for brain cancers and even a Cochran review for the use of ketogenic diets in epilepsy, the bipolar story has always been theoretical.
Ketogenic (very low carbohydrate and low protein) diets should work a bit like the mood stabilizer depakote in regulating unstable moods in bipolar disorder, making them an interesting option, should the research pan out. I explore the research and details in this post:
A Dietary Treatment for Bipolar Disorder?
But, as I stated in that article, there were no randomized controlled trials, not even a pilot trial, and the only two case studies I had unearthed had one guy getting psychotic on Atkins induction and another one where a hospitalized bipolar woman showed no benefit (but despite reported enthusiasm and being in an inpatient unit where her food was supposedly entirely controlled, she never acheived ketosis).
But the other day PubMed emailed me a new paper with links to the following article:
The ketogenic diet for type II bipolar disorder
. Thanks to the good
Dr. Eades
I was able to see the full text without getting a librarian to request it for me.
And here we have not one, but two rather well documented cases of bipolar II disorder in women, beginning in youth with some hypomania, in one person predictable seasonal depressions in the summer and a bit of mania in the spring. Both women had bad responses (such as suicide attempts and suicidal thoughts) to antidepressant trials and one gained weight on quetiapine. They were tried on lamotrigine, an anticonvulsant and mood stablizer, with okay results (one woman was finally able to maintain a job and be functional). One tried a ketogenic diet to help with some irritable bowel symptoms, the other just wanted to try the diet. One woman ate raw cream, grassfed beef, organic pork, free range chicken, and seafood. The other ate mostly chicken, fish, and coconut oil with 2-3 cups of vegetables a day. Both monitored their urine with ketostix or Ketone Care Test Strips most days for several months, achieving mild to moderate ketosis on most days.
Both women eventually discontinued the lamotrigine and reported better symptom control with the diet than with medication.
One woman described her irritability going away and a sense of calm. Also "having my head screwed on straight - well, it's definitely worth giving up pie." She said her symptoms seemed better with a ketone level of 15mg/dl vs 5 mg/dl in the urine. The other woman noted that
if she remained gluten-free, she felt much better, even though she had never been diagnosed with celiac disease.
Neither woman had any adverse consequences and they remained
stable on the diet for 2-3 years
at the time the paper was published.
The paper details how a slight acidosis achieved with a ketogenic diet results in decreased intracellular sodium accumulation, which is the mechanism by which all anticonvulsants which are also mood stabilizers appear to work. In addition, the paper details some possible pitfalls of a ketogenic diet, such as difficulty maintaining it in a world of twinkies and coca-cola, and the risk of kidney stones. The author recommends >2.5 liters a day of fluids and a potassium citrate supplement to alkinilize the urine, which is done routinely in pediatric clinics where ketogenic diets are used for seizures, but may not be be necessary in adults. There is a long-term review of the ketogenic diets in kids (though
I'm not a fan of the ingredients in some of the formulas used for tube-feeding some of these kids
- soybean oil, soybean oil and more soybean oil) talking about complications over 6 years. Since these kids were often very ill with many other debilitating conditions, it is hard to attribute the complications (sepsis, cardiomyopathy, lipid pneumonia) to the diet itself.
Lipids were measured in one woman from a vegetarian to an omnivorous to a ketogenic diet. As is expected her trigs dropped and her LDL and HDL went up on the ketogenic diet. Total cholesterol to HDL ratio (the best cheap test I know of relating to total LDL particle number, with a lower ratio being better) on the vegetarian diet was 4.47, 3.78 on the omnivorous diet, and 3.74 on the ketogenic diet.
All in all,
the paper is a nice illustration of two motivated patients acheiving remission of their bipolar symptoms (which they had dealt with for decades) with a free-living ketogenic diet
(and some other supplements, though each woman took different ones, for example, probiotics and omega 3). Two anecdotes isn't a huge amount of data, but it is intriguing, and I would say the time for a randomized controlled trial of ketogenic diets in bipolar disorder is way overdue.
(Final note as I was in a bit of a hurry when I wrote the post at first... I did want to say there is a *lot* about these case study diets that could be therapeutic. No processed food, no sugar, lots of nutrients, lots of omega 3, low in gluten or gluten-free, likely low in histamine. The tracking of the ketones and one women's experience that the 15mg/dl ketone level felt more calming to her along with the sensible biologic mechanism makes the ketosis part plausible, but it is important to note these other possible factors).