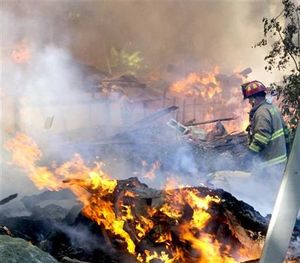 Stamford, Connecticut - An explosion leveled a six-bedroom house on Tuesday,
scattering debris hundreds of feet away
, but nobody was inside and there were no serious injuries, authorities said.
The homeowner was outside near a pool house on the property in Stamford, about 35 miles northeast of New York City, at the time of the explosion, said the town's director of public safety, Ted Jankowski. The homeowner was alert and conscious when emergency crews arrived, and he was taken to a hospital for observation.
Next-door neighbor Charlene Heffernan said she heard the blast.
"I thought a plane hit my house," Heffernan told
The Stamford Advocate
. "I have never heard anything so loud. My house shook from the top down."
Mayor Michael Pavia said the cause of the blast was under investigation but authorities suspected gas was involved. He said a 500-gallon propane gas tank on site was under a controlled burn Tuesday afternoon.
The explosion left nothing standing of the 6,000-square-foot home in north Stamford.
Debris landed hundreds of feet from the house, and three other homes in the neighborhood caught fire.
Neighbor Antonio Pisanelli told Norwalk's
The Hour
newspaper
the "whole house was gone."
"There was just a big hole," he said.