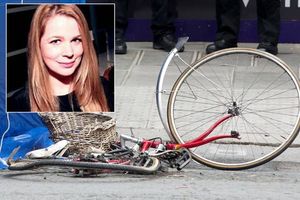 A cyclist killed in a rush-hour horror crash in Victoria was today named as a top scientist responsible for pioneering work on global warming.
Dr Katharine Giles, a research fellow and lecturer at University College London, was crushed under the wheels of a tipper truck as it turned left into Victoria Street on Monday morning.
Colleagues spoke of the "devastating loss" of Dr Giles, who had explored the Arctic and Antarctic and last year gave a presentation to MPs.
Sinead Farrell wrote on Twitter that "a bright, shining star has gone out", while UCL palaeoclimatologist Dr Katy Wilson said that "UCL Earth Sciences [had] tragically lost another brilliant young scientist".
Dr Giles, who was in her 30s,
worked at the Centre for Polar Observation and Modelling at UCL
after obtaining her degree there in 2000 and PhD in 2005. She is thought to have cycled that route to work for a decade.
Prof Andy Shepherd, who joined UCL with Dr Giles 15 years ago and now works at the University of Leeds, said: "She had a really well-rounded academic career and an exceptionally bright future.
"She got her hands dirty in very extreme circumstances. Right from the start she was very keen to make real observations - measurements of the thickness of the sea ice - rather than rely on the satellite measurements.
"She also participated in the Faraday lectures a few years ago and toured worldwide with those. She lectured thousands of students at a time."
He added: "Katharine had a small family. They are absolutely devastated."
Dr Giles was the second cyclist to die in London this year. Her death prompted Boris Johnson to threaten to ban HGVs from central London unless they are fitted with cycle-safety measures such as special mirrors and "skirts" around their undercarriage.
It is the second tragedy to hit the Centre for Polar Observation and Modelling after its director Professor Seymour Laxon died aged 49 after falling down a flight of stairs in the early hours of New Year's Day, hitting his head and suffering a massive brain haemorrhage. Dr Giles had been earmarked as his successor.
A statement to colleagues from Professor Shepherd and Professor Duncan Wingham said: "Coming so soon after the accidental death of Katharine's own closest colleague, Seymour Laxon, we are left with a sense of the outrageous unfairness with which our best colleagues have been taken from us."
Prof Wingham told the
Standard
: "She had written a paper in the journal
Nature
which was about the ocean circulations affecting the Arctic because the ice is melting out.
"And we were very taken with how she stepped up to the mark when Seymour died some months ago. The paper in
Nature
was a kind of marker. She was the next generation of talent coming on.
"I think she was able to see a little bit further than most people which is why UCL made her a permanent appointment. She was also a great communicator and concerned to communicate to a much greater audience than is the way with us old sticks in the mud.
"It is desperately sad. She was so excited about the science she was doing. She was so interested in the polar regions and loved going there."