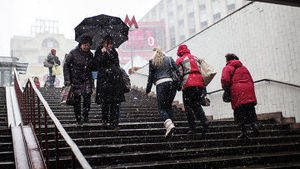 Moscow was hit with the first snow of the year on Wednesday, eyewitnesses in a southern district said, with forecasters predicting the current cold spell isn't going away any time soon.
"The snow was falling for five-seven minutes, it started at about 3:07 p.m.," a resident who lives close to the Yugо-Zapadnaya subway station, the southernmost stop on the Red line, told RIA Novosti. "Now the sun is out again."
Temperatures are expected to drop below freezing on Wednesday night, forecasters from the Fobos weather center told RIA Novosti. Wet snow and rain is in the forecast for Thursday.
Unusually cold and wet weather, more typical for mid-October than late September
, is expected at least until the end of the week, forecasters say.