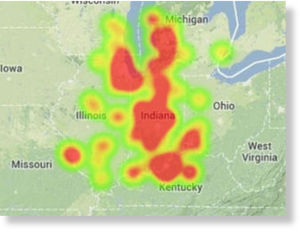 Observers report early-morning meteor.
A meteor streaked through the pre-dawn sky across parts of the Midwest early Thursday morning and was fairly widely seen across much of Indiana.
The American Meteor Society had
received more than 130 reports
of the meteor, which appeared shortly after 7 a.m.
Many of those reports came from Indiana.
"There was definitely a bright streak behind it, but I think I saw a small flame trail," read one report on the AMS site from someone in Indianapolis.
"This is the first time I have seen such a phenomenon so close and dramatic," read another report from Pendleton. "I thought at first that as it slowed, it would impact the ground, but it burned out above the ground."
Another observer from Indiana said he also heard a sound.
"I am a licensed pilot. At first, when I heard the sound, I looked for a plane and then saw the fireball in the sky," read the report. "A very impressive way to start your morning!"
Reports also came in to RTV6.
"Myself and 6 kids got quite a show at the bus stop this morning!" Kelly Huff said on RTV6's Facebook page. "It was intense!"