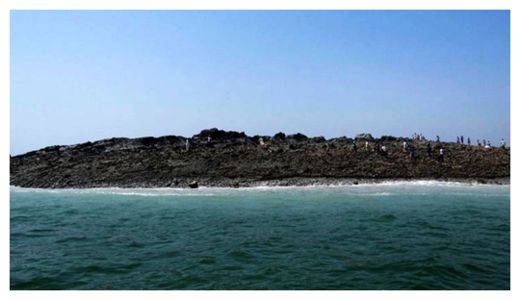 A new island that rose from the sea just off Pakistan's southern coast following Tuesday's earthquake is emitting methane gas.
The 7.7-magnitude quake, which killed at least 328 people, occurred on Tuesday at 4:29 p.m. local time (1129 GMT). Its epicenter was 20 kilometers below ground in the Awaran district of southwestern Balochistan province, which borders Iran.
The powerful quake caused the seabed to rise and create a new island about 600 meters off the South Asian country's Gwadar coastline in the Arabian Sea.
A man living near the coastline sent a text message to local journalist Bahram Baloch, saying "a hill has appeared outside my house."
"I stepped out, and was flabbergasted. I could see this grey, dome-shaped body in the distance, like a giant whale swimming near the surface. Hundreds of people had gathered to watch it in disbelief," the text message said.
On Wednesday morning, Baloch and some of his friends visited the island and took photographs.
"It's an oval shaped island which is about 250 to 300 feet (76-91 meters) in length, and about 60 to 70 feet (18-21 meters) above the water," he said
"There were dead fish on the surface. And on one side we could hear the hissing sound of the escaping gas," Baloch stated.
Baloch and his friends put a match to the fissures from where methane was emitting, and set it on fire.
"We put the fire out in the end, but it was quite a hassle. Not even the water could kill it, unless one poured buckets over it," he added.
Muhammad Danish, a marine biologist from Pakistan's National Institute of Oceanography, said a team of experts landed on the island on Wednesday and found methane gas coming out.
"Our team found bubbles rising from the surface of the island which caught fire when a match was lit and we forbade our team to start any flame. It is methane gas," Danish confirmed.
Rashid Tabrez, the director general of National Institute of Oceanography, said, "The seabed near the Makran coast has vast deposits of gas hydrates, or frozen gas having a large methane content."
"These deposits lay compressed under a sediment bed that is 300 meters to 800 meters thick," he added.
"When the plates along the fault-lines move, they create heat and the expanding gas blasts through the fissures in the earth's crust, propelling the entire sea floor to the surface," Tabrez explained.
He also said that the island that emerged near Gwadar is the fourth in this region since 1945.