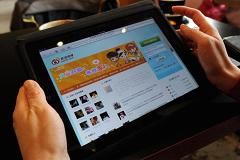 In their widening campaign against online "rumormongers" and other putative purveyors of social disorder, Chinese authorities have netted influential rights activists, freelance anticorruption sleuths and even a billionaire entrepreneur who championed the rights of poor migrants. Many of those detained in recent weeks remain in police custody.
But the enforcers of Internet propriety, it seems, were not prepared for the online outrage stirred up by the arrest last week of a 16-year-old boy who had publicly questioned investigators over the mysterious death of a karaoke club manager in China's northwest Gansu Province.
On Monday, the police in Zhangjiachuan Hui Autonomous County apparently bowed to public pressure and released Yang Zhong, a middle school student who was among the first people to be charged under new regulations that criminalize the spreading of online rumors with up to three years in jail. The authorities contend the boy had simply confessed to his crimes and served his punishment. Hours after his release, he posted online a photograph of himself flashing a victory sign. His shirt read, "Make the Change."
Rights defenders and free-speech advocates have embraced his release as a small but significant victory against what many here see as a draconian campaign against dissent that has ensnared dozens of people over the past two months. Those arrested include Xu Zhiyong, a prominent lawyer who had called on officials to publicly disclose their financial assets, and Xue Manzi, a Chinese-American investor who often railed against injustice to his 12 million microblog followers.
Play Video Can Chinese social media shift its revenue model? Duncan Clark, managing director at BDA China, comments on social media in China following the announcement of a deal between Sina's Weibo and Alibaba.
Mr. Yang's arrest on Sept. 17 drew sympathetic coverage in the news media, and more than 10,000 people posted supportive messages, although many were promptly deleted. Lawyers from Beijing offered to defend him.
"With the arrest of this kid, I think the public saw this rumor campaign for what it really is: a devious attempt to crush normal online expression," said Zhou Ze, a lawyer in Beijing who sought to rally public support for Mr. Yang's case through his own account on Sina Weibo, China's most popular microblog service.
A wiry boy with a fondness for Apple smartphones, online games and the occasional furtive cigarette, Mr. Yang ran into trouble two weeks ago when he stepped into a local controversy involving the death of a man whose body was found in front of the Jewel Time International Karaoke club. The police ruled the death a suicide, but relatives claimed the man had been beaten up before being tossed from an upper floor of the building. The youth, who spoke to some of the victim's relatives, questioned the official version of events and then posted a message noting that the club was owned by a local judicial official. "You don't want the world to know what happened?" he wrote. "What are you afraid of? I am not afraid of you. I took pictures, arrest me. I dare you."
Last Tuesday, the police did just that, grabbing him from school and later charging him with "disrupting social disorder" because the posts, they said, inspired protesters to block a local street, snarling traffic. The police also claimed he had stolen a motorbike when he was 15, although they say he escaped punishment because of his age. His father has said the allegations are untrue.
Wang Shihua, one of the lawyers who volunteered to represent Mr. Yang, said his detention was unlawful because his comments were not knowingly fabricated. "It's all right to crack down on rumors, but if such initiatives are expanded without limits or regard to principle, they become unconstitutional," he said Monday.
Many analysts say the current offensive against online rumors is the latest fusillade in the Communist Party's battle against liberal ideas like democracy and human rights, and those it fears could shake its hold on power. Unlike previous attempts to rein in China's freewheeling microblogs, now estimated to include 500 million registered users, officials have been going after relatively moderate rights advocates as well as some of the most popular voices on Weibo. "We've seen an across-the-board tightening," said David Bandurski, a researcher at the China Media Project in Hong Kong.
If the authorities in Zhangjiachuan thought the arrest of young Mr. Yang would chill outside scrutiny, they have been sorely disappointed. In recent days, some of China's most intrepid journalists have been taking a closer look at what ranks as one of the country's poorest counties. Bloggers have publicized lavish spending on government buildings, including nearly $3 million spent on the county's administrative headquarters, and the extravagant tastes of local civil servants, one of whom was photographed wearing the kind of luxury watch that has felled other officials. Another report claimed the police chief had retained his post despite an earlier conviction for bribery.
Mr. Yang, who works in his family's noodle shop, seems to have been emboldened by his ordeal. Soon after his release, he posted comments thanking his supporters. Later in the day, he was to participate in a live online interview with Sina Weibo members. But the exchange mysteriously ended just moments later, and soon afterward, the boy's microblog account disappeared, too.