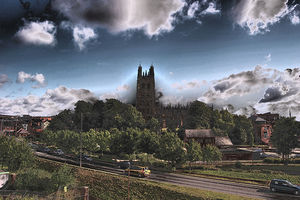 Emergency services dashed to the Pandy area of Wrexham to check out reports of a massive explosion.
Worried residents said
the blast was followed by a sheet of white light which lit up the sky
.
But after spending about two hours searching the area late on Monday night, police and fire service patrols found nothing to indicate what caused the bang, which was heard as far away as Acton and is said to have been
so severe that it shook buildings
.
Calls from concerned residents began flooding into North Wales Police at around 10pm.
North Wales Fire and Rescue Service was also alerted and sent three crews from the Wrexham station to Pandy.
Neither service was able to pinpoint the location or cause of the blast and called off the probe just before midnight.
A spokesman for North Wales Police said: "We began receiving calls about a loud bang and a flash of light in the sky just after 10pm.
"The first came in from in Westbury Drive in Pandy and there were other calls from places on the other side of the bypass such as Burton Drive.
"We checked the area and also alerted the fire service.
"People reported a loud bang and a flash of white light."
Pandy lies next to the former Gresford Colliery, but the spokesman added:
"The bang was said to have been in the air rather than on the ground
.
"Some people said their house shook and a number of people came out of their homes to see what had happened.
"The bang was said to have been too loud to have been a firework. The rail companies say there were no trains in the area at the time.
"We checked the area but could find nothing and called off the search by midnight."
A spokesman for the fire service said: "At 10.04pm we received a report from the police that people had been calling them about a loud bang followed by a flash.
"We sent out two pumps plus a rescue vehicle carrying heavy equipment from the Wrexham station.
"We spent 45 minutes fully investigating the area but could find nothing."
ScottishPower, which supplies electricity to the area, and Wales & West, which supplies gas, both said they had received no reports of any problems with their systems in Pandy.
A spokesman for the Met Office also said: "There was nothing in that area last night that would create the sort of weather conditions that would lead to a loud bang and a flash."
One of the people who heard the bang was Little Acton county councillor Ron Davies, who lives in Burton Drive.
He said: "It was just before 10pm when I heard a bang. It was quite a big one but I have no idea what it is was. I would be interested to find out."
Rachel Purdie, who lives in Westbury Drive, said: "I heard more than one bang just before 10pm. The first was was at about 9.45pm and was louder than a firework or a gunshot. The second bang was shortly afterwards and that was followed by a flash of light in the sky.
"I have no idea what it was but it was very odd."
Claire Emberry, who also lives in Westbury Drive, said: "When I heard the bang I thought it was a gas explosion. It was like a car backfiring but a lot louder.
"The house shook like when a train goes past. I had a look outside but could see nothing but then later I heard fire engines with their sirens going."
Andrew Bostock, of nearby Arley Road, said: "I heard a really big bang outside at about 9.45pm. It sounded like a firework to me so I put it down to kids messing about."
Wrexham student Liam Randall, who was at a friend's house in Little Acton at the time, said: "At about 9.45pm I saw a big flash and a loud bang coming from outside. The flash was white and seemed to fill the whole window and we could see smoke in the distance.
"A few of my friends saw it from as far as Acton and Borras. Some said their house shook when it happened."