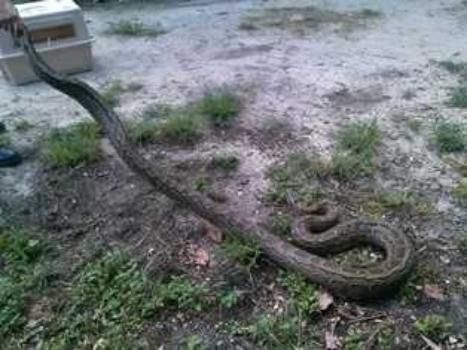 Florida wildlife officials are expanding efforts to find and kill African rock pythons in Miami-Dade County after a 10-foot-snake strangled a 60-pound Siberian Husky.
Miami-Dade Fire Rescue received a 911 call at 10:05 p.m. on August 30. The caller said a python was wrapped around the neck of their Husky named Duke. Six minutes later, Duke was dead.
Fire Rescue arrived on scene and killed the snake, a 10-foot-long, male, African Rock Python. It had bite marks on its back which are believed to be from the dog. The snake was sent to the University of Florida for a necropsy.
"Why worry? They don't belong here, and they are absolutely huge," said Kenneth Kyrsko, a herpetologist at the University of Florida. "These are 15-foot snakes over 150 pounds. Do you want one of those living in your backyard?"
Another big concern for wildlife officials is the pythons could reproduce to the point where they can no longer be controlled.
"Most likely we will euthanize them all," said Carli Segelson with the Florida Fish and Wildlife Conservation Commission. "We don't relocate them, we don't make an effort to find a new home for them."