A China Spring homeowner was surprised by an unwelcome guest slithering through the drain of his bathroom sink Friday afternoon.
About 3 feet of what officials think was a non-venomous rat snake made it through from the opening of the drain before it got caught in the pipe, Lt. Chris Eubank said.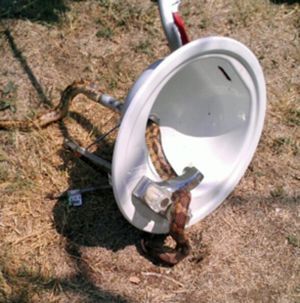 "(The homeowner) called us as soon as he saw it - he didn't want to mess with it," he said.
McLennan County sheriff's deputies, who responded to the scene on Norm Street about 12:40 p.m., were forced to disassemble the piping, then take the sink, with 6 feet of snake still stuck in the opening of the drain, in an attempt to free it, Eubank said.
It's not unheard-of for snakes to find their way into plumbing systems, especially in older homes, he said.
Deputies attempted to pull the snake out several ways, then left it alone for a while to give it a chance to free itself, he said.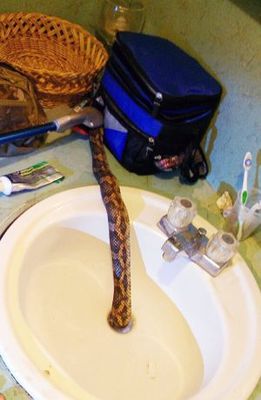 But it became clear that it was firmly wedged in, and it was evident that the snake would die, leading deputies to kill it in the most humane way possible, Eubank said.
Deputies are regularly called about snakes in the county, he added.