Carole Challis saw black and yellow snake when walking to greenhouse
Husband and neighbour captured it with garden rake and bin on its side
RSPCA says snake isn't native in Britain and believes it's an escaped pet
A 67-year-old woman had a shock when she discovered a 4ft-long snake at the end of her garden.
Carole Challis was heading down to her greenhouse in Derby when she saw the distinctive black and yellow reptile - believed to be a kingsnake - loitering under a table.
Her husband Pete and their neighbour managed to capture the snake by using a garden rake to coerce it into a bin on its side, before tipping it up and putting a heavy weight on top.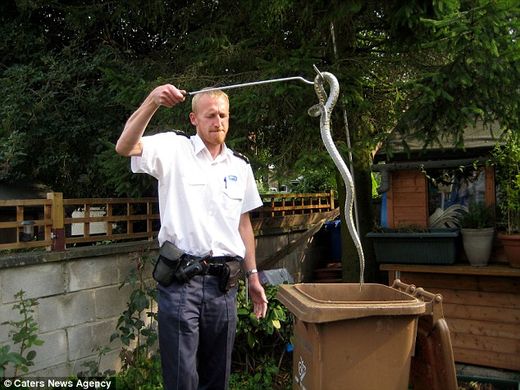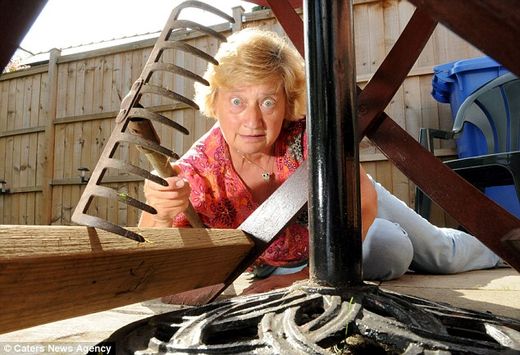 Mrs Challis said: 'I screamed so loud I'm surprised the whole of the street didn't hear me. He (Pete) hates them too and didn't believe me when I told him but then he saw it too.'
'Pete got hold of our garden rake and began coercing the snake into our brown bin which was lying on its side. Once it was inside, we tipped it up and then we put a big weight on top so there was no chance it was going to get out.'
After two-and-a-half hours a RSPCA officer identified the snake as not being native to Britain and promptly boxed it to keep it safe. It is suspected that the snake is an escaped pet.
It is thought that the reptile is a kingsnake, which is non-poisonous but kills its prey, which includes cats, rats and other snakes, by constriction.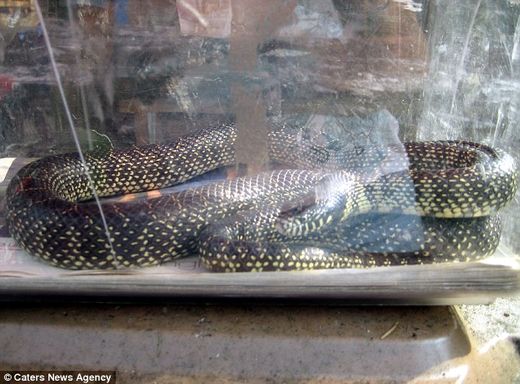 The RSPCA said: 'The snake is being kept in a reptile centre over the border in Nottingham as there was no space at either of the places tried in Derbyshire.'
A spokesman urged gardeners not to be alarmed if they discover a snake, saying: 'Snakes are shy animals and will normally move off quickly on approach. If you do come across a snake - don't touch.
'With the exception of the adder, British snakes are harmless, but it could be an escaped pet which may be venomous.
'If you suspect the snake is an exotic pet rather than a native species, keep a safe distance and call the RSPCA's 24-hour helpline 0300 1234 999 for advice.'