Mother and daughter Ann and Bridie Denniss, spotted the 3ft long snake in the garden
They decided to catch it and grabbed some tongs, gloves and a bag
The albino king snake tried to bite them but they eventually captured it
King snakes are commonly kept as pets but no one has yet claimed it
A fearless mother and daughter used a pair of salad tongs to capture an escaped red-eyed snake they spotted slithering along their garden wall.
Bridie Denniss, 24, was enjoying a cup of tea in her kitchen with her mum Ann when she looked out of the window and saw the 3ft long snake.
Brave Ann, 54, grabbed a pair of tongs from the kitchen draw along with a garden sack and went after it.
The rancorous reptile started hissing, rattling its tail and even tried to bite them - but after a short struggle the plucky pair got the tongs around it and bundled it into the sack.
It was then placed in a glass tank they used to used to keep geckos in.
After checking with neighbours and asking friends on Facebook to see if anyone had lost a pet snake, Bridie contacted a pet shop and a member of staff came to collect it.
The reptile was identified as an albino California King Snake, which are common as pets but are known for their feisty temperament.
Bridie, a mother of three from Weymouth in Dorset, said: 'We were having a cup of tea as we do every morning and were sitting in my kitchen when I looked out of the window.
'I could see something crawling along the wall and I told my mum it looked like a snake.
'When she agreed we looked at each other for a second in disbelief and went outside, we thought we had better catch it because it must belong to someone.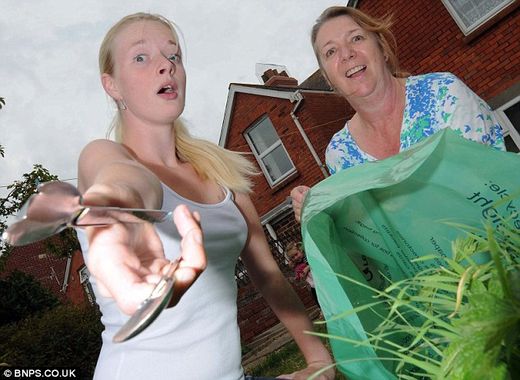 'She went inside and came back with a sack and a pair of salad tongs and I tried to scoop it up but it fell on the floor.
'My mum was running around saying "just grab it" but it started hissing, rattling its tail, and tried to go for my hand. Luckily I was wearing a garden glove.
'My children were screaming every time it did something.
'Eventually I managed to get it inside the bag and place it inside a vivarium I had at home, and we asked the neighbours if it was their pet snake.
'It wasn't theirs so I put it on Facebook and contacted a pet shop, and a member of staff came along and collected it.'
Pet shop manager Chris Hewlett said: 'It is an albino California King Snake. They are quite a common pet snake.'
The snake will be looked after by the pet shop until its owner is found.