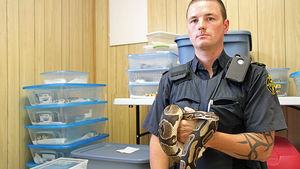 Snakes found in 5 cramped bins, left without water
A Brantford, Ont., couple were charged with three counts of animal cruelty after 40 ball pythons and five eggs were found unattended and dehydrated in plastic containers earlier this month.
Police found the snakes in five plastic storage bins at the Bell City Motel on Colborne Street in Brantford, west of Hamilton.
The pair both face one count of causing distress to an animal, failing to provide care necessary for an animal's general welfare and failing to provide enough water.
The snakes ranged from 30 centimetres to 1.3 metres in length.
When they were discovered, they did not have water and the owners of the snakes were not present. An SPCA official said the snakes were "in distress" and a later examination revealed they were dehydrated.
The owners, when found, surrendered the reptiles as well as the five eggs to the Brant County SPCA.
The snakes belonged to a local couple who stayed at the room for only one night, a manager at the motel told The Canadian Press. The couple were out Thursday evening when police arrived, said the manager, who asked that his name not be used.
Paul Sizer, a guest in a neighbouring room at the motel, told CBC News
the couple had five young children with them, including a baby.
"The first night I was afraid of [the snakes] getting out and coming after me," he said.
The pythons were in the care of the Brant County SPCA on Aug. 16 and transported to a reptile facility somewhere in Ontario early that evening. SPCA inspector Brandon James would not say where they were going.
It is illegal to own a python in Brantford.
The discovery came less than two weeks after
two boys were killed by an African rock python
in New Brunswick earlier this month.
Also Thursday night, animal control officers in Hamilton recovered a 1.2-metre-long ball python in bushes in the city's east end. It was the second ball python found abandoned in the city in a week.