The Mayor of a small French town has admitted he was unaware of giving permission to build a retirement village for gay people.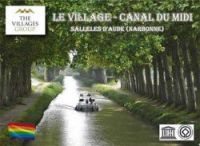 Yves Bastié, mayor of Sallèles d'Aude, gave the thumbs up to the construction of a holiday-retirement village as something he had long campaigned for.
But the mayor has admitted he was unaware that the project, put forward by the British company Villages Group, was destined to be a "private oasis for the over-50s gay and lesbian community".
"I knew nothing about it," he said. "I've asked my colleagues to check this information, but if it is the case, I think the least thing would have been to inform me."
While the project was presented to the mairie, images of a heterosexual couples were used, but on the English website of the group the illustrations are of gay couples.
The plan is for 104 eco-friendly homes plus a hotel, restaurant and sports centre in a gated community with concierge services and riverside access.
The entry price for a home is €236,000, plus €70 a week maintenance and service charge which also covers activities.