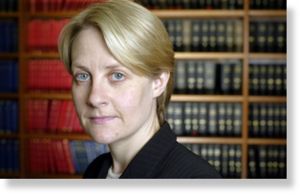 A leading barrister who previously criticised the 'witch-hunt' of ageing celebrities accused of sexual abuse has likened allegations of ritual satanic abuse by Jimmy Savile as being as unlikely as "alien abduction".
In her first interview since she wrote a controversial article in May for the online magazine Spiked, Barbara Hewson laughed as she remarked on Channel 4 News tonight that TV presenter Savile was alleged to have subjected a victim to satanic ritual abuse.
When asked by presenter Krishnan Guru-Murthy whether she found it funny, she said: "I do. Satanic ritual abuse doesn't exist, it's like alien abduction."
"Are you saying that the people who have made these allegations have made it up?" Mr Guru-Murthy then asked, to which she responded: "I would think so. They have made allegations but that's not evidence.
"What I'm saying is it's pointless to conduct an investigation of this kind into someone who is dead, as they can't answer.
"You can't actually do anything if the person accused is dead, because he's not around to be questioned, he's not around to be charged, he's not around to defend himself in any way."
She labelled the ensuing prosecutions of ageing male celebrities including BBC broadcaster Stuart Hall, who was jailed for 15 months for sexual assaults,as "a displacement tactic" to make up for the fact that Savile was not alive to be charged.
"It's a demand for retribution," said Ms Hewson.
In May, Ms Hewson wrote that the age of consent for sex should be lowered to 13 to end the "persecution of old men'', and that Hall's crimes were "low level misdemeanours''.
She also called for the end of anonymity for complainants.
She also said on Channel 4 News that she disagreed with historic prosecutions, including those for war criminals dating back as far as the 1940s.
"There are huge difficulties with evidence when prosecuting very old historic crimes," she said, arguing that it was hard to remember where you were during a certain period in 1967.
"I don't agree with historic prosecutions and equally I don't agree that we should prosecute people for war crimes that occurred in the 1940s,"
she continued. "It's simply too late.
"If something has happened to someone which is wrong, they should raise it as soon as they can, because that enables a proper investigation to take place and it would also prevent arguably the repetition of future offences.
"In America you have statutes of limitations, so it's actually quite normal for there to be a cut-off point beyond which you cannot charge people."
On her call to lower the age of consent for sex to 13, she said that the age was raised to 16 in 1885 following a "huge moral panic".
"What it did was react to a newspaper scandal about the Victorian sex trade, which greatly exaggerated the role of underage prostitution, so it was a knee-jerk reaction to an outcry caused by a newspaper," she said.
"I'm fascinated by the parallels between the Victorian moral panic of the 1880s and what we are seeing, which is this media obsession with sex crimes and underage sex. It all comes together with the Savile case."
She added:
"I'm not advocating either rape or compulsory sex, I'm just simply saying the age of consent in this country at the moment is too high."