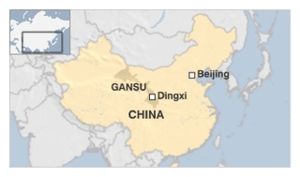 A powerful earthquake has hit China's north-west Gansu province, killing at least 11 people and seriously injuring at least 81 more, officials say.
The earthquake near Dingxi city had a magnitude of 5.98 and was shallow with a depth of just 9.8 km (6 miles), according to the US Geological Survey.
Dingxi local authorities say several houses have collapsed in the quake. In 2008, an earthquake in Sichuan province left up to 90,000 people dead and millions homeless.
Officials from the civil affairs, transportation and earthquake departments are visiting local towns to assess the damage, a statement on the Dingxi party website said.
Crews of fire fighters and rescue dogs have already arrived at the scene, the BBC's Celia Hatton in Beijing reports. The closer to the surface an earthquake strikes, the more damage it can cause, our correspondent adds.
"You could see the chandeliers wobble and the windows vibrating and making noise, but there aren't any cracks in the walls," AFP quoted a clerk at Wuyang Hotel, about 40 km (25 miles) from the epicentre, as saying.
"Shop assistants all poured out onto the streets when the shaking began," the clerk said.